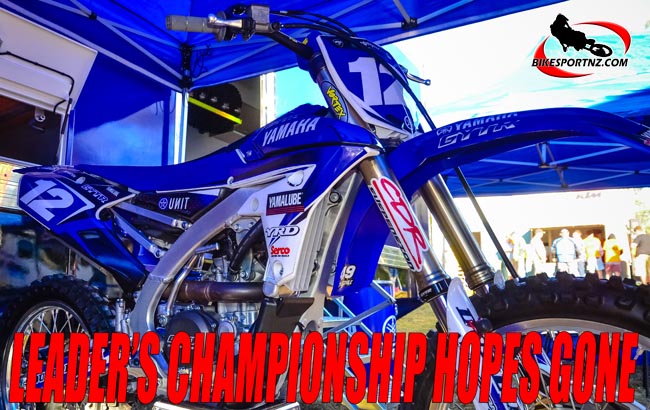 The season is over for Australia's Motocross Development (under-19) class red plate holder Jed Beaton.
The GYTR Yamaha rider went down in a racing incident last weekend that will see him sidelined for the remaining two rounds of 2014, handing the advantage to his great rival Egan Mastin.
New Zealanders have dominated the MXD (U19) class in Australia in recent years, with Mangakino's Kayne Lamont winning the title in 2012 and Takaka's Hamish Harwood taking the crown last season, but both those riders have since moved out to tackle the MX2 class, leaving riders such as Beaton, Mastin, Jack Simpson, Wilson Todd, Aarton Tanti and Nathan Crawford to battle for youth glory.
Beaton, who has overcome obstacle after obstacle in the past six months, to clinch the MXD championship lead (including appendicitis) was dealt the toughest card of all when he crashed in regional Victoria this week, breaking his leg and ending his 2014 campaign.
Beaton burst onto the scene in the MXD class this year and he was carrying an eight-point lead on Mastin heading into round nine this weekend.
Beaton will now miss out on the final two rounds of the MX Nationals and will narrowly miss out on securing a 2014 MXD title.
A tough pill to swallow, after being just two rounds shy of an expected MXD championship, Beaton remains determined that he will return to the MX Nationals and take a 2015 championship.
Words by Andrew Weiss, Eskimo Media
© Photo by Andy McGechan, www.BikesportNZ.com
Find BikesportNZ.com on Facebook HERE