WINNING IN CARS AND ON BIKES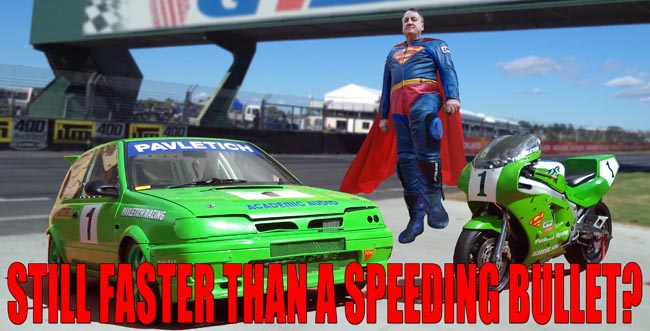 He may be only slightly faster than a speeding bullet these days and possibly only able to leap small buildings in a single bound – maybe just the occasional letterbox – but Paul "Superman" Pavletich is still something of a hero.
The 55-year-old Ararimu man proved that he is probably just as fast as ever – now racing both cars and motorcycles – when he wrapped up the Auckland Car Club and Auckland Motorcycle Club's respective annual championships at the sixth and final round of both series at Pukekohe and Hampton Downs, respectively at the weekend.
Pavletich drove a Nissan GTi two-litre saloon car to victory in the Auckland Car Club's six-round, 18-race series and also raced a Kawasaki ZXR750 to win the Pre-1989 Post Classic class in the Auckland Motorcycle Club's championships this season.
The Pre-1989 class is a competition for riders on superbikes manufactured before 1990. It is run over 18 races at six events and Pavletich won the series with a round to spare.
Pavletich's main competitors in the car competition this season were fellow Aucklanders Graham Ball, Peter Ball and Peter Hooper, while it was Auckland's Paul Webb, Whangarei's Duncan Coutts and Te Awanga's Eddie Kattenberg who kept him honest in the motorbike racing.
"To be fair," he said "Eddie 'The Kat' Kattenberg, who finished the series fourth overall, did not contest all the rounds."
Pavletich said he attributes his success to his team of key supporters, his brother Mark Pavletich, a renowned engine builder, and his close friends Craig Griffin and Paul Boeyn.
"I can't emphasise enough just how much this was a team effort," Pavletich said.
Pavletich, the former CEO of Motorcycling New Zealand, the sport's governing body here, has motorcycling in the blood, having raced with outstanding success throughout the 1980s and 1990s, and he returned to the race track in 1999, finishing fifth outright in the superbike class at the nationals that season.
He rode only occasional events after that as he dedicated his time to coaching other riders.
This season is the second time Pavletich has won the Auckland championships in both the car and motorcycle codes in the same year. He also completed this double back in 2000.
"I may sponsor a young rider on the bike next season and just concentrate myself on racing in the car series."
Pavletich's career highlights:
Bikes. –
Former NZ Road Race Champion
Wynns International series F2 winner
12 x Auckland Motorcycle Club Champion
Castrol Six-hour multi-class winner
NZTT title winner
Cars. –
4 times Auckland Car Club Champion
1 x 1600cc production class
1 x 1600cc modified class
2 x 2000cc modified class
© Words by Andy McGechan, www.BikesportNZ.com
Find BikesportNZ.com on Facebook HERE