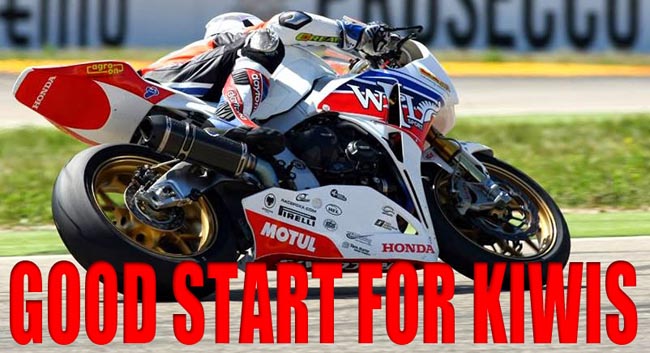 The racing season has kicked off in great style for all the WIL Sport New Zealand riders as they finished in the points at World Superbikes in Aragon, Spain, last weekend.
So it was very exciting for the team to see Oratia rider Connor London come home 11th in the European Junior Cup riding a Honda CBR500, scoring five championship points and setting his fastest times at the circuit.
In fact, his race time was faster than the winning time from last year.
This year's race was 12 seconds faster than last year's, helped obviously by having slightly fewer riders on track. Such is the skill and speed of these young riders, aged only 14-19 years of age, that they continue to push each other hard, which saw a few crash along the way.
But it is all about rider ability and how fast they are prepared to push the bike as every rider is riding the same model CBR500 which makes for some of the most exciting racing at the event.
Another rider to score points was last year's EJC winner from Rangiora, Jake Lewis. This year riding his prize – a CBR600 for the Agro On WIL Racedays Honda team. And in an exciting race, Lewis brought his bike home in 11th position.
Lewis impressed every session he was out on the bike and was just beaten for a top 10 position by his own team-mate, Italian rider Kevin Manfredi.
But with more than 30 riders in the field, this was an impressive start to his Super Stock 600 career at the International level and we anticipate even greater success this season.
A new international rider on the WIL Sport team is Englishman Kyle Smith, who secured a podium 3rd place finish in the Super Stock 1000 class riding the Honda CBR1000R Fireblade. A fearless rider with a Moto 2 background Kyle is another to watch.
In the EJC, WIL Sport wildcard rider Jianwen Zhu is an emerging talent from China who experienced his first international race and came away with one championship point which was very exciting for him and his family.
And also supported by WIL Sport this year is Spanish rider Augusto Fernandez who was runner up in the championship last year and was narrowly beaten into 4th place on this occasion. He is another talented rider to watch in 2014.
Everyone is now readying for the next round in Assen, Netherlands on April 25-27, followed by Imola, Italy, Donnington, UK, in May and back to Misano, Italy, at the end of June.
And not forgetting that over in Italy Will Sport supports another Kiwi rider, Orewa's Avalon Biddle, who is racing in the Moto3 competition.
The first round last weekend didn't go to plan however with mechanical difficulties meaning she never made it on to the grid.
However with plenty of testing going on over the next few weeks, Avalon anticipates being all set to go later in May for round 2.
WIL Sport is an organisation based in West Auckland, New Zealand that seeks to foster young talent and provide pathways for them on to the International sporting stage.
Find BikesportNZ.com on Facebook HERE