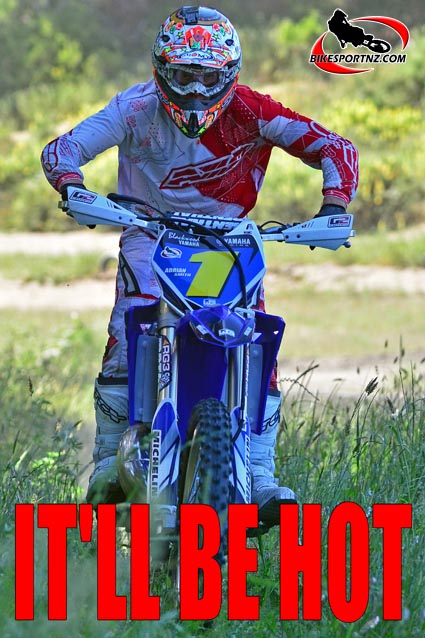 We may be heading into winter, but it's about to get very hot indeed in the South Island this weekend.
Mokau's Adrian Smith believes he on track to retain his national cross-country championships crown this season after winning the second round of four in the series near Huntly last month, but he can take nothing for granted as the competition heads deep into the home territory of his closest rival, Maruia's Ethan Bruce, for round three on Sunday.
The two Yamaha men are level on top of the championship standings, with the competition now at the halfway stage, and Sunday's race at Waipuna Station, Ikamatua, in Westland will go a long way towards determining where the main trophy ends up this season.
Bruce won round one in Taranaki in February, while Smith battled through traffic to finish fourth. The results were reversed at round two near Huntly in March, Smith winning and Bruce crossing the line in fourth position.
While that puts the two round winners on top of the points table, it could just as easily be the men who finished second and third at the previous rounds – Raglan's Jason Dickey (Kawasaki), Morrinsville's Nathan Tesselaar (KTM) and Taupo's Brad Groombridge (Suzuki) – who could sweep in and claim the initiative on Sunday.
Dickey has finished 2-3 thus far, while Groombridge had huge problems at round one, credited only with a 30th-place finish, although he rebounded to finish runner-up at Huntly.
The points from only three of the four rounds are to be counted towards the title, with riders to discard their worst result, so anything is still possible for any of these riders.
Riders such as Palmerston North's three-time former national champion Adam Reeves (Yamaha), Eketahuna's Daniel Christie (KTM), Huntly's Andrew Charleston (Honda), Rotorua's Scott Birch (Honda) and Taranaki's Renny Johnstone (Kawasaki) could also challenge for the win in the three-hour senior race on Sunday.
"It was difficult for me at Huntly because I had an injured thumb," said defending three-time champion Smith. "I lost feeling in it and couldn't grip on the bike very well. But I am fully recovered now and feeling very fit for Sunday."
Meanwhile, the battle will likely be intense in the junior class between 13-year-old Auckland KTM rider Jake Wightman and Waipukurau 16-year-old Ben Fryer (Yamaha).
Leading riders such as Eketahuna's Charlie Richardson (KTM), Marton's Ethan Breuer (Honda) and Otorohanga's Aaron King (Honda) are also expected to feature in the 90-minute junior race on Sunday morning.
The championships will wrap up in Marlborough on Saturday, May 17.
© Words and photos by Andy McGechan, www.BikesportNZ.com
Find BikesportNZ.com on Facebook HERE