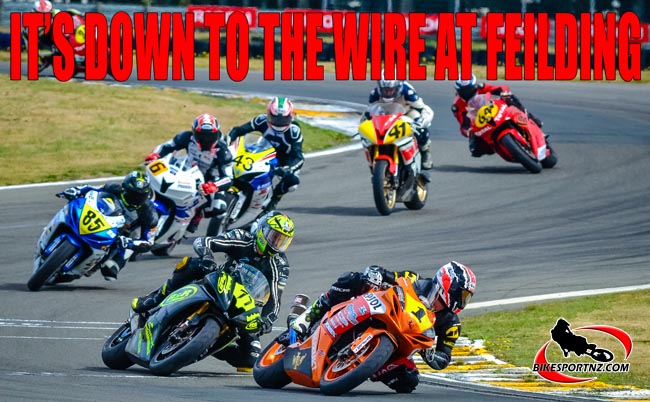 The action is white hot in the chase for 600cc Supersport class honours in this year's New Zealand Superbike Championships as the riders head to Manfeild this weekend for a 'double-header' final round.
Auckland's Toby Summers (R&R Powersport Yamaha R6) threw down the gauntlet at last weekend's penultimate round of the series near Taupo when he won the first of the weekend's three races in the close-fought 600cc class.
"It's what I needed to do," said the 41-year-old Manukau plumber matter-of-factly, having arrived at the Taupo circuit a massive 38 points behind the championship leader, Christchurch's defending champion John Ross (Suzuki GSX-R600).
That win by Summers put a huge dent in the advantage Ross enjoyed, but more drama was to follow the next day when Summers was hoping to cash in some more.
Ross leapt into an unbelievable lead at the start of the weekend's second 600cc race and stayed there until the finish but he was later penalised 20 seconds for jumping the start and this relegated him back to sixth spot.
So Summers, who crossed the line in third position in that race, found himself elevated to runner-up spot and was thankful that he had again shaved points off Ross.
But then came the final race of the weekend and it became a fiercely-fought three-way duel for the lead between Summers, Ross and Christchurch's Alastair Hoogenboezem (Suzuki GSX-R600).
With just one lap to go, a back-marker became embroiled in the conflict and, about to be swallowed up by the three riders duelling at the front, the lapped rider made the mistake of moving off his line and, among the high-speed confusion, it resulted in a final lead change, Hoogenboezem eventually taking the win ahead of Ross and Summers.
In the end, Summers finished second overall for the day, two points behind Hoogenboezem, but, most significantly, he also finished ahead of Ross and had reduced the Canterbury man's championship advantage to just 28 points as they now head to Manfeild this coming weekend for the fourth and final 'double-header' round.
Five races will be run in each class at Manfeild and so, mathematically, any of these three riders could emerge as national champion this coming Sunday afternoon.
Summers was philosophical about his weekend at Taupo.
"I'm not happy that I didn't win the day, but I suppose I can be thankful I clawed a lot of points back on John.
"Anything can happen now with five races to go next weekend. I guess I'll just have to outride them all at Manfeild. I like Manfeild and I'm looking forward to racing there."
© Words and photo by Andy McGechan, www.BikesportNZ.com
Find BikesportNZ.com on Facebook HERE