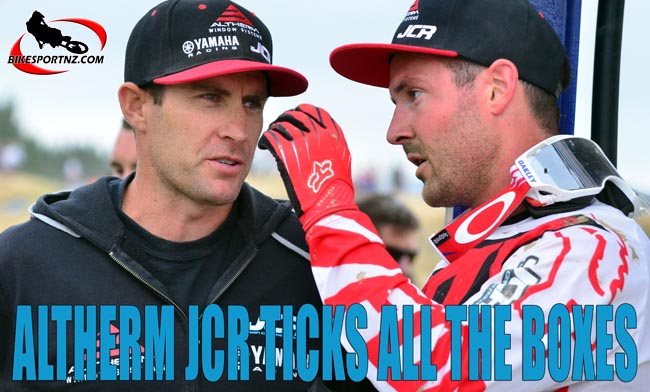 Every single podium featured a flash of blue at the opening round of the New Zealand Motocross Championships at Timaru on Saturday and it's something the men from Yamaha will be wanting to repeat as the season progresses.
Altherm JCR Racing Yamaha Team riders stood on the podium in all three championship classes late on Saturday afternoon, a testament to the diversity that Yamaha offers the race scene and the fighting qualities of its riders.
Defending national MX1 champion Cody Cooper finished the day a slender three points ahead of Queensland rider Ford Dale, with Edinburgh's Billy MacKenzie putting his Altherm JCR Racing Yamaha YZ450F on the third step of the podium, only another three points further back.
The MX2 (250cc) class was also intense, with Mangakino's Kayne Lamont (Hiusqvarna Red Bull TC250) ending the day just three points ahead of Yamaha's defending MX2 champion Scott Columb, with another visiting Australian rider, Jay Wilson, third on the podium, 14 points behind Columb.
What was unique about the MX2 podium was that it featured two Altherm JCR Racing Yamaha riders on two entirely different types of motorcycle.
Columb was racing a YZ250 two-stroke and Wilson rode one of the new 2014-model YZ250F four-stroke bikes.
Australian supercross champion Wilson had earlier this season also won the New Zealand MX2 Supercross Championship crown when he last visited to race for the Altherm team in November.
Meanwhile, in the 125cc class, Te Puke's Logan Blackburn (Altherm JCR Racing Yamaha) secured the early championship lead.
Blackburn ended the day just one point clear of his nearest rival, Hamilton's Josiah Natzke (CMR Red Bull KTM), despite winning two of the day's three 125cc races.
A brave fight-back through the blinding dust in the day's first race earned Blackburn solid points for finishing fourth and those points, when added to his two wins later in the afternoon, were just enough for the 19-year-old to clinch the championship lead.
"It was great to have all of our riders on the podium today," said Altherm JCR Yamaha Racing Team boss Josh Coppins.
"Kayne (Lamont) rode flawlessly today but Scott (Columb) also rode well and it's shaping up to be a great battle for the title between those two riders. We had two riders on the podium in the MX2 class, so that was fantastic.
"I'm very happy to see that everyone has stepped up. We've just got to keep our eye on the prize and looking ahead."
The four-round series now heads to Tokoroa for round two on February 23. Round three follows in Pukekohe on March 9 and, finally, it all wraps up in Taupo on March 22.
© Words and photos by Andy McGechan, www.BikesportNZ.com
Find us on Facebook HERE