Te Puke's Logan Blackburn was unstoppable on Sunday, even when his motocross rivals and the weather tried to do just that.
The 19-year-old arrived at the 42nd annual Whakatane Summercross event near Matata to give the new 2014-model Yamaha YZ250F its New Zealand debut outing and, while the rain-drenched track proved impossibly difficult for some of the riders, the Altherm JCR Yamaha Racing Team rider seemed to thrive in the mud and slush.
The BikesportNZ.com-supported national 125cc No.2 was unbeatable on Sunday, taking the fresh new bike to back-to-back wins in the 31-rider Youth MX class, finishing comfortably ahead of Tuakau's Anthony Parker (KTM) in race one and a similar margin ahead of Whangarei's Ryan Hoskins (Husqvarna) in race two.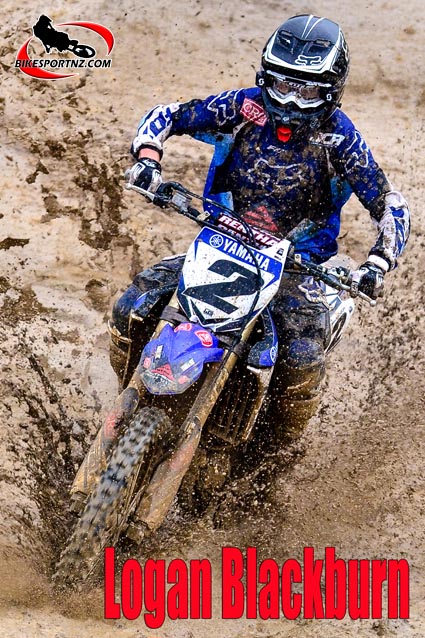 Hoskins eventually finished the day runner-up to Blackburn, with Levin's Dan Bell, Otorohanga's Josh Ryburn and New Plymouth's Jakob Vink battling hard for the remaining podium position, Bell's 4-3 results giving him the advantage to finish third overall for the day.
But the muddy day belonged to the Yamaha man, Blackburn snatching the lead straight out of the starting gate in both instances and not looking back.
He probably wouldn't have been able to see anything is he had looked back, the track conditions were so severe that the event organisers had been forced to reduce the day's programme from three races for each class back to only two.
"I grabbed the holeshot both times, which was fantastic in these conditions," said Blackburn afterwards.
"Then I just put the hammer down to create a gap on the field. I was choosing good lines and was telling myself just to be patient and smooth and not make any mistakes.
"This was the first ride in New Zealand for the new bike and I couldn't believe the power I had. I had only been on the bike three or four times, just to run the engine in, and this was the first real test in a proper race."
Altherm JCR Yamaha Racing Team boss Josh Coppins was naturally thrilled with the winning ride.
"It was great to give the new YZ250F a win on debut," said Coppins. "To get such good results in these trying conditions is very satisfying."
The riders now prepare for the annual New Zealand Motocross Grand Prix at Woodville at the end of January, followed by the four-round New Zealand Motocross Championships which kick off near Timaru in February.
For both the stand-alone Woodville event and the national, however, Blackburn will revert back to his Yamaha YZ125, where he will contest the Under-21 125cc division and where he hopes to move up one spot in the national rankings, to the No.1 position.
The rider who won the national Under-21 125cc title last season, fellow Yamaha rider Cameron Vaughan, of Rotorua, has moved across to the MX2 (250cc) class this season.
© Words and photo by Andy McGechan, www.BikesportNZ.com