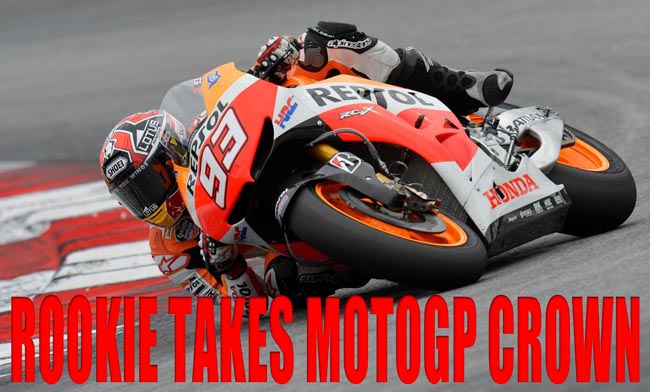 Spain's Marc Marquez has become the youngest ever MotoGP world champion and the first rookie to take the title since American 'King' Kenny Roberts in 1978.
The Repsol Honda star, who has set a new rookie record of six wins, claimed the premier-class crown by four points with third place in Sunday's tense Valencia showdown against defending double champion Jorge Lorenzo.
Marquez came into the event having seen a 43-point lead slashed to just 13 in the space of two races but held his nerve in the face of a brutal, but tactically perfect, attempt by Lorenzo to hold up the field.
Lorenzo – who needed Marquez to finish outside of the top four – slowed the pace to form an eight rider lead group, savagely retaliating whenever Marquez's team-mate Dani Pedrosa took the lead.
But no matter how slow Lorenzo went, the support he needed from his fellow Yamaha riders never arrived. Team-mate Valentino Rossi struggled to pass Alvaro Bautista for fourth and couldn't keep pace with the leading trio when he finally moved ahead of the Gresini Honda rider.
To make matters worse for Lorenzo, Tech 3 Yamaha's Cal Crutchlow crashed out as the halfway mark approached.
Lorenzo and Pedrosa made contact on several occasions, most notably when Lorenzo pushed Pedrosa wide during a re-pass at turn two – putting Marquez into the lead, with Pedrosa re-joining back in fifth.
That pass will be investigated by Race Direction after the race.
Lorenzo soon retook the lead from Marquez, who refused to get stuck into a fight.
Lorenzo then seemed to switch tactics and raise the pace, but Marquez ignored the bait and stayed a safe distance from the Yamaha star who went on to win his eighth race of the year.
Marquez allowed Pedrosa through into second place with five laps to go, crossing the line with both hands in the air before celebrating with his fan club.
Lorenzo gave Marquez a hug and shook hands in parc ferme.
The 20-year-old Marquez takes the youngest champion record from Freddie Spencer, who was 21 when he claimed the 1983 title.
Despite predictions that his all-action style would result in numerous DNFs, Marquez has finished off the podium just twice in the 18 races – falling from second place late in the Mugello race, then being disqualified (while battling for victory) due to a pit stop error at Phillip Island.
Instead it was experienced countrymen Lorenzo and Pedrosa whose title hopes were undone by accidents and injuries. Yamaha's Lorenzo broke his collarbone at Assen, where he returned to claim a courageous fifth on race day, then re-damaged it next time in Germany.
Pedrosa also fractured a collarbone at the Sachsenring, and was launched out of the Aragon race when Marquez brushed the rear of his RCV, severing a traction control sensor.
Marquez received a penalty point for the incident, adding to the two he had received at Silverstone for ignoring yellow flags in a warm-up fall, bringing him to the brink of a back of the grid start.
Some of Marquez's chief rivals have been openly critical of his on-edge riding style, while others feel Marquez can't be criticised for 'near' incidents: You are either break the rules – and are punished – or you don't.
Marquez won the 125cc title in 2010 and Moto2 championship in 2012.
Roberts went on to win three premier-class titles in a row and few doubt that Marquez has the potential to do the same. Marquez is signed with Repsol Honda until at least the end of next season.
Result from Valencia, MotoGP:
1. Jorge Lorenzo ESP Yamaha Factory Racing (YZR-M1) 46m 10.302s
2. Dani Pedrosa ESP Repsol Honda Team (RC213V) 46m 14.236s
3. Marc Marquez ESP Repsol Honda Team (RC213V) 46m 17.659s
4. Valentino Rossi ITA Yamaha Factory Racing (YZR-M1) 46m 20.881s
5. Alvaro Bautista ESP Go&Fun Honda Gresini (RC213V) 46m 25.267s
6. Stefan Bradl GER LCR Honda MotoGP (RC213V) 46m 34.701s
7. Bradley Smith GBR Monster Yamaha Tech 3 (YZR-M1) 46m 39.345s
8. Nicky Hayden USA Ducati Team (GP13) 46m 50.195s
9. Andrea Dovizioso ITA Ducati Team (GP13) 47m 3.498s
10. Michele Pirro ITA Ducati Test Team (GP13) 47m 13.285s
11. Aleix Espargaro ESP Power Electronics Aspar (ART CRT) 47m 14.499s
12. Hector Barbera ESP Avintia Blusens (FTR-Kawasaki CRT)* 47m 17.128s
13. Claudio Corti ITA NGM Forward Racing (FTR-Kawasaki CRT)* 47m 21.783s
14. Danilo Petrucci ITA Came IodaRacing Project (Suter-BMW CRT)* 47m 23.945s
15. Colin Edwards USA NGM Forward Racing (FTR-Kawasaki CRT)* 47m 34.551s
16. Hiroshi Aoyama JPN Avintia Blusens (FTR-Kawasaki CRT)* 47m 43.312s
17. Michael Laverty GBR Paul Bird Motorsport (ART CRT) 1 lap
18. Luca Scassa ITA Cardion AB Motoracing (ART CRT) 1 lap
19. Bryan Staring AUS Go&Fun Honda Gresini (FTR-Honda CRT) 1 lap
20. Martin Bauer AUT Remus Racing Team (S&B Suter-BMW CRT) 1 lap
Andrea Iannone ITA Energy T.I. Pramac Racing (GP13) DNF
Randy De Puniet FRA Power Electronics Aspar (ART CRT) DNF
Cal Crutchlow GBR Monster Yamaha Tech 3 (YZR-M1) DNF
Yonny Hernandez COL Ignite Pramac Racing (GP13) DNF
Lukas Pesek CZE Came IodaRacing Project (Suter-BMW CRT)* DNF
Damian Cudlin AUS Paul Bird Motorsport (PBM-ART CRT)* DNF
* Standard ECU.
Final 2013 MotoGP world championship standings:
| | | | |
| --- | --- | --- | --- |
| 1 | Marc Marquez | Repsol Honda Team | 334 |
| 2 | Jorge Lorenzo | Factory Yamaha Racing | 330 |
| 3 | Dani Pedrosa | Repsol Honda Team | 300 |
| 4 | Valentino Rossi | Factory Yamaha Racing | 237 |
| 5 | Cal Crutchlow | Monster Yamaha Tech 3 | 188 |
| 6 | Alvaro Bautista | Go&Fun Honda Gresini | 171 |
| 7 | Stefan Bradl | LCR Honda | 156 |
| 8 | Andrea Dovizioso | Ducati Team | 140 |
| 9 | Nicky Hayden | Ducati Team | 126 |
| 10 | Bradley Smith | Monster Yamaha Tech 3 | 116 |
| 11 | Aleix Espargaro | Power Electronics Aspar | 93 |
| 12 | Andrea Iannone | Energy T.I. Pramac Racing | 57 |
| 13 | Michele Pirro | Ducati Test Team/Pramac Racing | 56 |
| 14 | Colin Edwards | NGM Mobile Forward Racing | 41 |
| 15 | Randy De Puniet | Power Electronics Aspar | 36 |
| 16 | Hector Barbera | Avintia Blusens | 35 |
| 17 | Danilo Petrucci | Came IodaRacing | 26 |
| 18 | Yonny Hernandez | Paul Bird Motorsport | 21 |
| 19 | Claudio Corti | NGM Mobile Forward Racing | 14 |
| 20 | Hiroshi Aoyama | Avintia Blusens | 13 |
| 21 | Ben Spies | Ignite Pramac Racing | 9 |
| 22 | Alex de Angelis | Ignite Pramac Racing | 5 |
| 23 | Katsuyuki Nagasuga | Yamaha YSP Racing Team | 5 |
| 24 | Karel Abraham | Cardion AB Motoracing | 5 |
| 25 | Michael Laverty | Paul Bird Motorsport | 3 |
| 26 | Bryan Staring | Go&Fun Honda Gresini | 2 |
| 27 | Javier del Amor | Avintia Blusens | 1 |