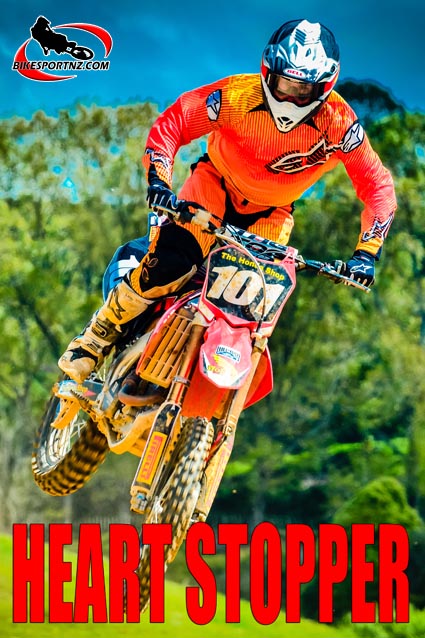 Ben Townley has his heart in the right place.
On November 29 this year, the former world and American motocross champion is taking part in the Heart Stopper Challenge At The Challenge – he's going be plunging into a pool of icy water for five minutes to show his support for @Heart, the organisation that supports Kiwi heart kids and their families all around the country.
"I know it sounds mad, and my toes will be freezing, but my heart will be warm knowing that I am helping the 12 babies born each week with a heart condition in NZ.
"The Heart Stopper Challenge will be a feature of this year's Contact Lake Taupo Cycle Challenge. I'll be plunging with a few other crazies to draw attention to the high incidence of Childhood Heart Defects (CHD) in New Zealand (one baby is born with a heart defect out of every 100 babies born!) and I'm hoping to raise some much-needed funds for the awesome charity behind this chilling event."
Townley explained that @Heart provides all sorts of vital services at no cost to heart families, and they receive no government funding for any of it.
The organisation runs annual camps for kids, teens, and young adults living with CHD, they provide support for families staying in the national paediatric cardiac unit for open heart surgery, and a network of family support staff all over the country to support heart families when they return to their own communities.
"There are so many other things they do too – provide educational resources, travel assistance, the list just goes on!
"What you really need to know is that the need is great, and I'll be doing my part plunging into 8 degree temperatures for 5 minutes to help make a difference.
"Your part is easy – please support me in my challenge by making a donation to my page – large or small, it all helps @Heart, and it'll help to keep my heart warm when my fingers and toes have gone numb!"
You can donate to BT's page HERE
It's a secure site, and your donation will be receipted straight away.
Go on, think of the kids!