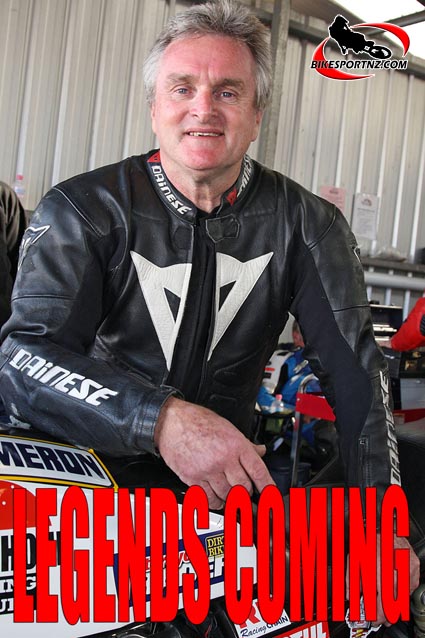 Two Australian superbike champions will cross the Tasman to be a part of the action at Hampton Downs next weekend.
For the 2013 Barry Sheene Oceania Challenge over Labour Weekend, last year's leading Australian racer at the BSTT, 'Mr Superbike' Robbie Phillis, is joined by fellow Australian Superbike Champion and 500cc Grand Prix racer Malcolm Campbell.
Phillis will race a Suzuki TR750 Replica works bike.
Campbell came up through the Australian Production race ranks from the mid 1970s and signed to Honda Australia from 1983-1992. In 1981 he was called in as a replacement rider for the NZ Castrol Six Hour and won on a CB1100RB Honda. In 1983 he won the Castrol 6hr in Australia on the VF750 and won every race he entered.
In 1988 he headed to Europe with Robbie Phillis to the World Superbike Round in Austria and got on the pole with his spare RC30 and took 3rd place. In the second leg at Manfeild that year he took second place to give him ninth overall with Phillis seventh.
Expect both these riders to be serious contenders at the Hampton Downs track.
Double Isle of Man TT winner and rising Australian star Cameron Donald will race a NZ built McIntosh Suzuki GSX1135 machine and will be in fine form after his recent trip to the Isle of Man.
Donald debuted on the Island in 2005 and has taken two wins, eight second-place podiums plus a third place. In addition to numerous feature race wins in Australia, Cameron has also won the Macau Grand Prix – 600 on two occasions.
On Thursday, October 24, Donald will speak at a dinner at York Street Mechanics Restaurant in Auckland about his year including the IOM TT and Classic TT and his plans for 2014.
Places are limited so please call Ross Peden on 021 533 139.
Three World Champion guests at the Hampton Downs event who will do a  parade of the track during the meeting and be available for photos and signing of autographs.
New Zealanders Hugh Anderson and Graeme Crosby will be joined by Fred Merkle (USA), a two-time Superbike world champion.
In 1984, Merkel teamed with Mike Baldwin to win the Suzuka 8 Hours endurance race.  He is a three-time AMA Superbike Champion, winning in 1984/5 on the VF750 and 1986 on the VFR750F. In 1988 the Superbike World Championship began, with Merkel entered on the RC30.
He won the championship from Fabrizio Pirovano and Davide Tardozzi with two wins and three other podiums.
He successfully defended the crown in 1989, with 3 wins, 7 other podiums, and 4 poles. He took three more wins en route to sixth overall in 1990, but was less competitive after this. Merkel retired from racing at the end of the 1995 season after being injured in an accident at Firebird International Raceway in Chandler, Arizona.
Merkel and his family then moved to a ranch they owned in New Zealand.
Yamaha TZ "40 Years Display"
In the Hampton's pavilion there will be a display of rare Yamaha TZ250, 350 and 750 machines including the late Dr Roger Freeth's 'Viko' TZ750A race machine with the aerofoils that saw it banned from racing in New Zealand.
The Barry Sheene Oceania is the largest International motorcycle race in New Zealand's history with fifty-two Australians competing. Friday 25th is practice day, Saturday Qualifying in the morning and racing from noon plus racing Sunday 9am to 5pm each day with over 300 competitors competing from all around New Zealand.
The races will cover from Pre-War machines through to the Pre '89 early superbikes. Twenty-four modern sidecars will compete in the 'Oceania Series' Tickets prices are Adult Friday $10, Sat $25, Sun $25 or $40 for a three-day weekend pass, with camping $60 per person. Further details at www.barrysheenetranstasman.co.nz
© Words by Robert Cochrane