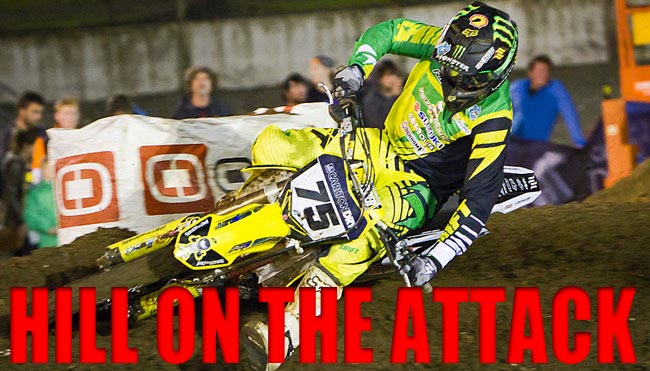 Josh Hill, Luke Styke and Jay Wilson claimed the wins in a thrilling round three of the Terex Australian Supercross Championship in Mount Gambier, South Australia, at the weekend.
The opening SX-Open heat was won by Matt Moss (Suzuki), trailed closely by American import Weston Peick (Honda), with Sam Martin (Suzuki) getting the better of Kade Mosig (Yamaha) for third.
Heat two of the 450s belonged to Jake Moss (Campbell Mining Suzuki) ahead of another American in Josh Hill (Suzuki) and hometown hero Kirk Gibbs (KTM). Top qualifying Daniel McCoy, team-mate to Gibbs, was fourth.
The first of the SX-Lites heats was topped by Brenden Harrison (KTM) from Taylor Potter (Honda) and series leader Luke Styke (Yamaha). Gavin Faith (Honda) won the second over Ryan Marmont (Suzuki) and South Australian Luke Arbon (Yamaha).
The only Kiwi in the mix, Mangakino's Kayne Lamont – fresh from his Motocross of Nations campaign in Germany – finished fourth in his SX-Lites qualifying heat to progress directly to the main event, when he managed ninth place.
This puts the Choice Motorsport KTM BikesportNZ.com rider eighth overall after three rounds in the series.
Heat one of the Under 19s was topped by Jake Donaher, with Jett Anderson and Bailey Coxon completing the top three. Jake Emanuelli (Suzuki), on debut with the team, won heat two ahead of Jay Wilson (Yamaha) and Joel Wightman (Yamaha).
The Junior Lites category marked the first main event of the evening, won by Brock McLeary (KTM), with Wilson Todd (Yamaha) and Jordan Hill (KTM) rounding out the podium.
In the Under 19s main event it was Wilson who opened the season with victory, fending off a mid-race charge from Emanuelli, with Corey James (Yamaha) rounding out the podium.
"It was great, I haven't had that good of a day, but it's great to get it done in the finals," Wilson said. "I can't give it up enough to GYTR Yamaha and the whole team – I can't thank them enough. We've got the red plate now, that's a first, so we'll keep charging along from here."
Styke won a thrilling 15-lap Lites main event, handed the victory with just a few corners to go after Faith crashed out of a comfortable lead. The podium was Styke ahead of Harrison and a charging Marmont, who bounced back from a first lap fall.
It was a second consecutive win for Styke, breaking the points lead between him and Faith, extending him a seven-point lead in the process.
"They say it's not over until it's over, it shows never to give up," Styke said. "Hats off to Gavin, he rode an awesome race but made a silly mistake on the last lap. I rode my own race, made some mistakes early, but hats off to Serco Yamaha, it's awesome."
Harrison was elated with his first podium of the season, boosting him inside the top 10 in the series at the halfway point.
"I can't thank Choice Motorsports KTM enough," Harrison said. "I'm just so happy, hard work pays off and this is the best feeling ever. It's my second race meeting and nearly two years, but I just need seat time and to enjoy myself – I cannot wait for the next race now."
Marmont's race was a memorable one, the former champion showing signs of his title-winning form, and landing on the podium for the second time in three rounds.
"I tucked the front-end, it was a silly mistake and cost me big time, but we're still on the podium and in the championship," Marmont said. "I did a lot of homework after Darwin, spent a lot of time on the bike, and unfortunately I couldn't put it all in place. Anyway, we'll come back strong next week."
The top five was completed by a disappointed Faith, with standout Honda privateer Taylor Potter fifth. TM Racing Australia's Nick Sutherland scored an impressive sixth upon switching to the two-stroke for this weekend.
Tunetech Racing KTM's Kale Makeham was an early casualty for the evening, transported to hospital with a suspected shoulder injury in the heat races.
The SX-Open main event was a thriller, with Matt Moss taking the holeshot and leading early, before a heavy crash bumped him to the bottom half of the top 10. That handed the lead to Hill, who soldiered on to win convincingly from Peick in an American 1-2 and Jake Moss, who kept his perfect podium run intact.
"I got a second place start, was pacing myself behind Matt waiting for a mistake because he was making a lot but wasn't losing time," Hill said. "He ended up going down, so from there I rode my own race, my bike started to detonate a bit, but I rode it out."
Peick was satisfied with second, resulting in his second podium of the season and retaining third in the standings – eight points from Matt Moss in the lead.
"I was trying to keep it consistent," Peick said. "I didn't get the start, both Moss's went down, but I kept it straight and smooth so it was awesome. I'm really thankful for everybody who's helped me get here."
Jake Moss recovered from a crash while running second to seal third, now four points in arrears of his twin brother in the series.
"I played it too easy at the start, I knew the track would bit you, which we saw with Matt," Jake said. "Hill definitely slowed down mid-race, but unfortunately I got caught up with a lapper and went down. Three in a row on the box now, so that's what I've got to keep doing."
Matt Moss recovered to fifth behind McCoy, holding onto his championship lead over Jake and Peick. Meanwhile, Hill climbed to fourth, 10 points off of Moss.
Behind Moss in sixth at Mount Gambier was Hill's teammate Martin after an entertaining dice with Mosig, while defending champion Marmont, another crasher in the attrition-filled final salvaged eighth. The top 10 was rounded out by rising stars Jacob Wright (Honda) and Hayden Mellross (Honda).
The series will resume next weekend at Phillip Island, the double-header alongside the Australian Motorcycle Grand Prix in Victoria.
Image courtesy Grant Reynolds/FiftySix Clix
2013 Australian Supercross Championship results from round three – Mount Gambier, SA:
SX-Open heat one results:
1. Matt MOSS
2. Weston PEICK
3. Sam MARTIN
4. Kade MOSIG
5. Jacob WRIGHT
6. Lawson BOPPING
7. Brad MATHESON
SX-Open heat two results:
1. Jake MOSS
2. Josh HILL
3. Kirk GIBBS
4. Daniel McCOY
5. Jay MARMONT
6. Hayden MELLROSS
7. Lewi WOODS
8. Callan DICKSON
9. Jack ZAHRA
SX-Open main event results:
1. Josh HILL
2. Weston PEICK
3. Jake MOSS
4. Daniel McCOY
5. Matt MOSS
6. Sam MARTIN
7. Kade MOSIG
8. Jay MARMONT
9. Jacob WRIGHT
10. Hayden MELLROSS
11. Lewi WOODS
12. Callan DICKSON
13. Brad MATHESON
14. Jack ZAHRA
15. Lawson BOPPING
16. Kirk GIBBS
SX-Open championship standings (after three of six rounds):
1. Matt MOSS 66
2. Jake MOSS 62
3. Weston PEICK 58
4. Josh HILL 56
5. Daniel McCOY 49
6. Jay MARMONT 48
7. Kade MOSIG 40
8. Sam MARTIN 34
9. Kirk GIBBS 31
10. Lawson BOPPING 28
11. Tim VARE 20
12. Mat HAWORTH 20
13. Lewi WOODS 17
14. Phillip BODEY 16
15. Jacob WRIGHT 12
16. Hayden MELLROSS 11
17. Callan DICKSON 9
18. Brad MATHESON 8
19. Chris CAMILLERI 8
20. Jack ZAHRA 7
SX-Lites heat one results:
1. Brenden HARRISON
2. Taylor POTTER
3. Luke STYKE
4. Kayne LAMONT
5. Tristen CACHIA
6. Ryhs DORREEN
7. Boyd HOCKING
8. Kale MAKEHAM
SX-Lites heat two results:
1. Gavin FAITH
2. Ryan MARMONT
3. Luke ARBON
4. Nickolas SUTHERLAND
5. Dylan LONG
6. Nicholas GECK
7. Luke WILSON
8. Ryan ZIEPES
SX-Lites main event results:
1. Luke STYKE
2. Brenden HARRISON
3. Ryan MARMONT
4. Gavin FAITH
5. Taylor POTTER
6. Nickolas SUTHERLAND
7. Luke ARBON
8. Dylan LONG
9. Kayne LAMONT
10. Tristen CACHIA
11. Ryhs DORREEN
12. Boyd HOCKING
13. Ryan ZIEPES
14. Luke WILSON
DNF. Nicholas GECK
SX-Lites championship standings (after three of six rounds):
1. Luke STYKE 72
2. Gavin FAITH 65
3. Ryan MARMONT 58
4. Luke ARBON 48
5. Dylan LONG 48
6. Nickolas SUTHERLAND 42
7. Taylor POTTER 40
8. Kayne LAMONT 39
9. Brenden HARRISON 31
10. Kale MAKEHAM 31
11. Luke WILSON 28
12. Boyd HOCKING 25
13. Tristen CACHIA 21
14. Daniel CHALLEN 14
15. Daniel McINNES 11
16. Ryhs DORREEN 10
17. Ryan ZIEPES 8
18. Nicholas GECK 8
Under 19s heat one results:
1. Jake DONAHER
2. Jett ANDERSON
3. Bailey COXON
4. Corey JAMES
5. Jesse McNALLY
6. Izak MAULE
Under 19s heat two results:
1. Jake EMANUELLI
2. Jay WILSON
3. Joel WIGHTMAN
4. Elijah WIESE
5. Tim O'BRIEN
6. Jordan WATERS
7. James BROWN
Under 19s main event results:
1. Jay WILSON
2. Jake EMANUELLI
3. Corey JAMES
4. Joel WIGHTMAN
5. Jett ANDERSON
6. Jake DONAHER
7. Jesse McNALLY
8. Tim O'BRIEN
9. Bailey COXON
10. Jordan WATERS
11. James BROWN
12. Elijah WIESE
13. Izak MAULE
Under 19s championship standings (after three of six rounds):
1. Jay WILSON 25
2. Jake EMANUELLI 22
3. Corey JAMES 20
4. Joel WIGHTMAN 18
5. Jett ANDERSON 16
6. Jake DONAHER 15
7. Jesse McNALLY 14
8. Tim O'BRIEN 13
9. Bailey COXON 12
10. Jordan WATERS 11
11. James BROWN 10
12. Elijah WIESE 9
13. Izak MAULE 8