SUZUKI SERIES SET TO SIZZLE
The tarmac is set to blister and sizzle again in New Zealand this summer.
Yes, it will surely be another scorcher on at least three of New Zealand's favourite motorcycle road-race circuits starting in December with international superstars signing up in even greater numbers this year to race the traditional pre-nationals warm-up competition, the Suzuki Series.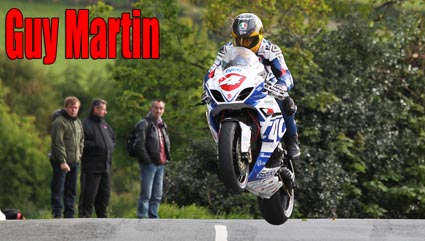 It used to be called the Suzuki Tri Series and, while it remains a three-round series for now, expectations are high that it will expand in the near future, such has been the growing popularity of the competition since its inception in 2008.
The Suzuki Series is New Zealand's pre-eminent road-race competition, aside from the national championships proper, with the schedule this season is set for Hampton Downs on December 6-7 and Manfeild on December 14-15, the series winding up, as always, with the traditional Cemetery Circuit races on the public streets of Wanganui on Boxing Day (December 26).
"The entries are really starting to flow in," said Suzuki Series organiser Alan 'Flea' Willacy.
"We have seen a huge amount of interest from overseas again this year too, with Englishman Guy Martin entered for Boxing Day, Italian supermotard ace Malachi Mitchell-Thomas arriving for the series, Germany's Thomas Kreutz is returning this year and Australian brothers Craig and Steve Trinder, among others, have indicated their intentions to race here too.
"I'm particularly excited about Guy Martin coming. He's a real entertainer, but he's coming here to win, not just to ride around. He'll have a Suzuki F1 superbike, generously supplied by Suzuki New Zealand, and he's sure to be a real crowd favourite.
"What you see is what you get with Guy Martin. He's a straight-talker and a fine racer … a real character of the sport," said Willacy.
Martin was the central character in the movie "Closer To The Edge" released in New Zealand cinemas in 2011, a no-holds-barred, behind-the-scenes film about racing the legendary Isle of Man circuit.
Along with the Isle of Man track, Wanganui's Cemetery Circuit was recently named as one of the top 10 street circuits in the world by Dutch publication Motor Magazine, no doubt a factor in enticing Martin to make the trip Downunder.
Christchurch's Dennis Charlett (Underground Brown Suzuki GSX-R1000) (pictured top) won the Suzuki Series' Formula One class last season and he will again be among the favourites to win this time around as well, along with other leading Kiwi superbike riders such as New Plymouth's Hayden Fitzgerald, Wellington's Sloan Frost, Hamilton's Nick Cole and Feilding's Craig Shirriffs.
It is also worth noting that anyone who goes on to the internet – www.cemeterycircuit.co.nz – to purchase an "early-bird" ticket to the Cemetery Circuit races will go into a draw to win a Suzuki GSR750 bike.
© Words and main photo by Andy McGechan, www.BikesportNZ.com
Martin photo courtesy Suzuki Europe