KNOCKED DOWN AND BACK UP AGAIN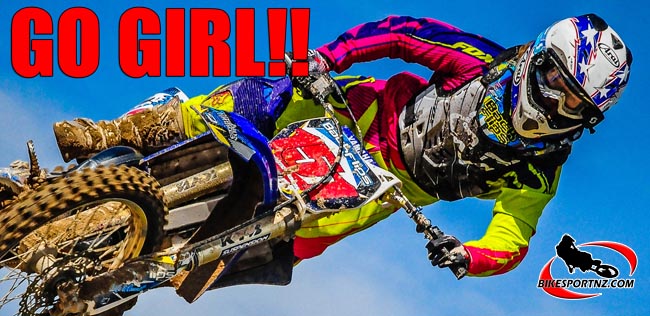 Motocross rider Courtney Duncan's talent shone in the United States but it was a six-month stint punctuated by physical tribulations.
Otago Daily Times newspaper reporter Catherine Pattison contacted BikesportNZ.com this week to offer us this item …
Now back home in New Zealand, she spoke about getting knocked down and getting back up again.
Courtney Duncan is one tough young woman.
Picture this – she's gunning her 125cc Yamaha into the first corner of the first women's moto of the Amateur National Motocross Championship at Loretta Lynn's ranch in Tennessee. She has qualified four seconds faster than any other rider. She has been training and racing towards this moment since she first swung a leg over a motocross bike 10 years ago.
Then a fellow competitor's pants get caught on her front brake lever, locking her wheel. She is catapulted head-first into the ground and run over by several following riders. Despite suffering concussion, 17-year-old Duncan somehow manages to get back on her bike and claw her way forward from 42nd place to seventh. Now back home in Palmerston, she has not ridden since the accident.
" I didn't opt to race any longer [in the United States]. With a head injury you can't afford to risk it. I want to be around for a long time. There will be plenty more races."
At the time, it was a disappointing end to a glittering run of results she had achieved during her time based at the Millsaps Training Facility, in Georgia.
Owner and trainer Colleen Millsaps describes Duncan as "a very special athlete".
"She is incredibly strong mentally and physically. Courtney is as tough as they come, as tough as any male rider I have ever worked with, to be honest. She is also a very smart racer.
"What makes Courtney dangerous as a competitor is her belief that she has no limitations."
Duncan began her US campaign by securing the spotlight right away, with her performances at two major Texas races – the International Grand National Championships, at Oak Hill, and the James Stewart AMA Spring Championships, at Freestone. She won three women's titles in Texas but she also raced with the boys in Freestone, achieving a seventh in the schoolboy moto.
Then that no-limitations attitude kicked in and she was offered a chance to race in a national professional class at the opening round of the women's Triple Crown, in May.
She swept both motos, carding a stunning 1-1 in her WMX class debut at the Hangtown Classic – the opening round of the US motocross nationals in California.
Having never raced the fastest women, Duncan says she did not know what to expect. The victory had been long-cherished.
"When you are a little kid, you always dream of riding pro, or racing pro, so to win on debut was amazing."
The nature of her sport means falls are a fact of life and a small mishap over a jump back at Millsaps left her with a broken wrist and unable to contest the second round of the WMX Championships.
Faced with six weeks to let it heal naturally, she opted for a steel plate to be inserted so she could ride under three weeks later – albeit in pain – at the Florida-based qualifiers for the Lorretta Lynn races. She went ahead and won them.
"It had to be done," Duncan said simply.
Leaving family and friends back home in New Zealand for the first time was hard on the teenager, especially travelling long distances across the United States and turning up to those career-defining races without her usual support crew.
"It makes you grow up a lot and take responsibility for yourself."
Duncan adds that her family are the first ones she goes to for advice and no matter where her racing takes her that will never change.
Former international GP star Josh Coppins, of Motueka, can sympathise with Duncan. He knows how cruel fortune can be on a motocross track. One minute you are on top of the podium, next minute you are face down in the mud.
"It's part of growing up and part of being professional," he said.
Duncan's speed, attitude and tireless work ethic has impressed him.
"Overall, amazing. She's definitely the fastest girl in the world by a long shot. Now, it's matter of trying to find a road to prove that."
Duncan is taking some time out after her concussion and intends to begin her next quest along that road early next year. Whether she will return to the United States or try her hand in Europe remains undecided.
© Words by Catherine Pattison, Otago Daily Times
© Photo by Andy McGechan, www.BikesportNZ.com