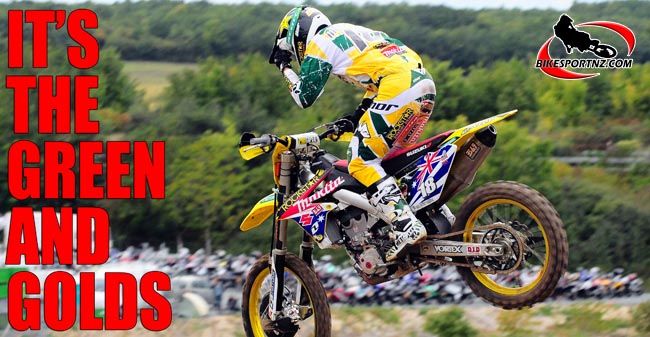 Motorcycling Australia has announced its three-rider team for the upcoming Motocross of Nations in Germany.
Brett Metcalfe (MX1), Dean Ferris (MX2) and Todd Waters (MX3) will represent Australia at the 2013 Motocross of Nations in Teutschenthal, Germany on September 29.
Team manager Gary Benn said selection was extremely difficult this year but he believes Australia will be well represented by Metcalfe, Ferris and Waters.
"These guys are in amazing form at the moment and were a natural pick to represent the Aussies on the motocross world stage," Benn said.
All three Australian riders have exhibited hot form in recent weeks.
Metcalfe wrapped up the 2013 Canadian motocross nationals with a round to spare after winning round eight of the championship, held at Moncton, earlier this month.
Ferris scored back-to-back victories in the MX2 class at the GP of Belgium a week ago and Waters is currently running second overall (behind Matt Moss) in the Australian Motocross Championships.
Australia's most successful motocross rider, Chad Reed, unfortunately had to withdraw his application at the last minute, said it was "a tough decision".
Reed is currently locked in a legal battle with Pasco County in the United States.
"With my ongoing battle with Pasco County and not at 100% I don't feel good about taking a spot on team Australia's MXDN team. Good luck guys! I'll be back in 14."
The Pasco County battle centres on Reed's use of his personal motocross training track, with neighbours upset over noise issues and his apparent breach of a "conditional use permit" (see more details below).
Along with Reed ruling himself out of the selection process, current Australian motocross nationals championship leader Matt Moss also make himself unavailable because he wanted instead to concentrate on preparing himself for the upcoming Australian supercross championship season.
Widely known as the "Olympic Games of Motocross", the Motocross of Nations is the pinnacle of motocross events on the world calendar and more than 30 countries traditionally sign up for battle.
In Belgium in 2012, it was Team Germany that reigned supreme, followed by Belgium and the USA. Team Australia finished 10th and Team New Zealand 15th.
Final MXoN standings in 2012:
1. Team Germany 25pts,
2. Team Belgium 29pts,
3. Team USA 39pts,
4. The Netherlands 44pts,
5. Team Italy 45pts,
6. Team France 47pts,
7. Team Estonia 56pts,
8. Team Great Britain 56pts,
9. Team Portugal 80pts,
10. Team Australia 83pts,
11. Russia 93pts,
12. Sweden 103pts,
13. Ireland 106pts,
14. Latvia 120pts,
15. New Zealand 127pts,
16. Slovenia 134pts.
2012 MXoN classification MX1:
1. Tony Cairoli, Italy, KTM
2. Max Nagl, Germany, KTM
3. Gautier Paulin, France, Kawasaki
4. Clement Desalle, Belgium Suzuki
5. Ryan Dungey, USA, KTM
2012 MXoN classification MX2:
1. Ken Roczen, Germany, KTM
2. Blake Baggett, USA, Kawasaki
3. Marvin Musquin, France, KTM
4. Alexander Tonkov, Russia, Honda
5. Priit Rätsep, Estonia, KTM
2012 MXoN classification Open class:
1. Jeffrey Herlings, Netherlands, KTM
2. Tanel Leok, Estonia, Suzuki
3. Ken de Dycker, Belgium, KTM
4. Justin Barcia, USA, Honda,
5. Davide Guarneri, Italy, KTM
REED'S COURT BATTLE
Pasco County Judge William Sestak recently granted a temporary injunction barring Reed from operating a meandering outdoor track on the property, which sits halfway between Dade City and Zephyrhills. Reed lives in the gated community of Lake Jovita Golf and Country Club.
Reed remains free to operate two indoor tracks, but county attorney Jeffrey Steinsnyder said the judge could revisit that when the county files for a permanent injunction against Reed.
Reed and the county have been sparring since 2004 when he received Pasco's approval for two indoor tracks on 4 acres, which allowed as many as three riders at one time. But in 2009 he began building a third course — dirt tracks and jumps meandering through 11 acres — without going back to the county. That's when he sought a conditional use permit, which commissioners granted in exchange for limiting the hours of operation.
But neighbours complained that he violated the rules and caused noise at all hours. That led commissioners to re-examine the permit. But Reed at the last minute avoided a showdown by transferring the property to his children's trust. That revoked the permit, but neighbours complained that racing continued. That prompted commissioners to sue Reed.
Reed countered in his response that his track is legitimate for a number of reasons, including that it is not a commercial venture and that original zoning rules from 2004 when his track was approved allowed such tracks on property with Reed's type of zoning. He said that the current zoning administrator reinterpreted the rules to exclude Reed's track.
© Photo by Andy McGechan, www.BikesportNZ.com