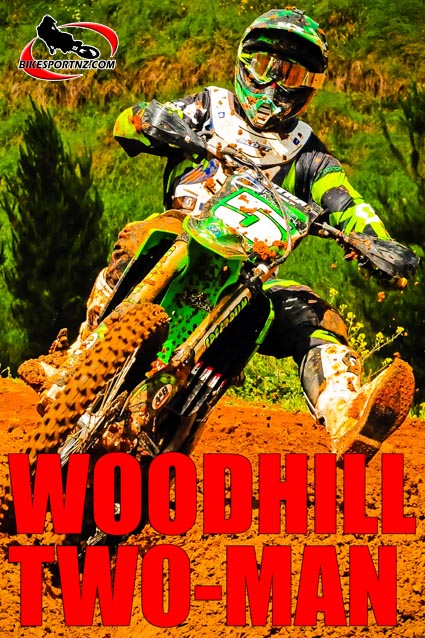 It doesn't get much more intense than this … the annual Woodhill Two-man Cross-country Series.
This Sunday, July 28, is the first round of the long-running Woodhill Two-man Cross-country race series, proudly sponsored by Spectrum Motorcycles and promoted by Endless Dirt Biking.
The deer hunters have been told to "hold your fire" while close to 300  riders fire up their steeds for round one honours of this epic three-hour forestry cross country race over a varied 20km course.
There are many different classes with the juniors (8-13yrs) and novice ladies race starting at 9am over 7-8km and racing for two hours followed by the seniors blasting away at noon sharp.
There is something about racing the Woodhill Two-Man that draws immense interest. For some it's about cutting their teeth for their first ever race. And many have cut their teeth in the loamy sands of Woodhill forest, the recent Power cousins (and their fathers) to the way back legends of John Nicholson, Barry Rehier, Tjebbe Bruin and Mark McDonald in the era of the 1970s.
Yes, it's where fame is found for a few and many are left … well buggered. The racing is talked about for all of the four weeks until the following round in late August and until the finale at the end of September. It is one of New Zealand's biggest cross country events.
Last year's overall championship winning Honda team of Chris Power and James Ainsworth has now disbanded as Power is now riding for Yamaha. This should see him teaming up with Woodhill forestry ace, Callum May, a team that on paper looks to be the hot favourites.
But don't tell that to some of the other expert combinations in Husqvarna's Sam Greenslade and Simon Lansdaal, the Spectrum Motorcycles pairing of Shaun Fogarty (pictured above) and young MX jock Aiden Kiff, BikesportNZ.com-sponsored Joshua Jack and local Muriwai junior Luke Mobberly, and expected to be strong with local knowledge the KTM pairing of Jono Hill (back from injury) and Logan Beuth.
In the mixed grade the racing will be no less frantic with the young pairing of Phoebe Hill and Taylor Grey taking it to the in-form Husaberg riders Natasha Cairns and Shaun Prescott. Watch out for Sam Brown in the Solo as he excels in the trees and will be exceptionally hard to beat.
The father sons teaming is yet to be confirmed but rumours are out that the Taupo combination of recent Romaniac finishers Greg and Mark De Lautour will compete. If the far north community from the farm travelling over the Brnderwyn hills are on form (read the Hoskins and the Bennett's from "The Farm") then the racing in this class will be intense but by the same token a whole heap of fun.
Vets legends, last year's class winners, and great supporters of this event, Dean McCormack and Sam Cummings will be returning to defend their old fellas title and they are adamant that it's theirs for the keeping.
It's going to be another great race event over a variety of terrain that has a bit of everything for all riders, young to novice to expert. No double points in the last round and all rounds count for points.
Details are at www.endlessdirtbiking.co.nz