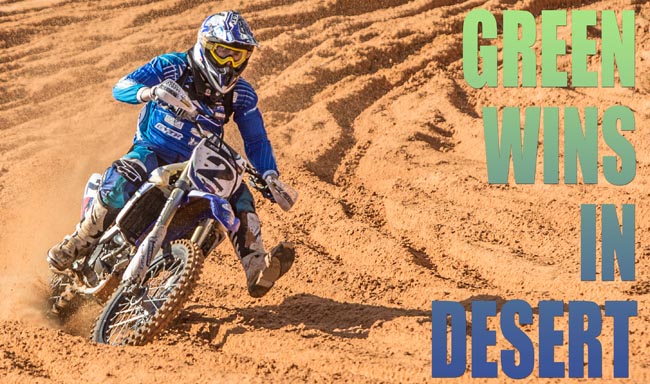 Australian Josh Green has won the 2013 Hattah Desert race, while New Zealand's Ben Townley, making his debut at the Australian cross-country event, finished a creditable 15th overall.
The prestigious and long-standing event in the surrounding desert of Hattah in Victoria saw nearly 350 riders take up the challenge but it was Green who landed on the top of the podium.
Townley had worked his way from 12th to fifth early in the race before "hitting a wall" on lap five.
Cessnock's Green kicked off the weekend strongly, taking pole position after the Saturday prologue, a full second ahead of his nearest rival. Faced with eight, 38 kilometre laps of sandy, whooped out terrain on the Sunday, the event becomes the ultimate test of fitness, rider skill and bike durability.
Nearly four and a half hours of racing saw Green take a convincing win on board his Yamaha YZ450F. He was involved in a tight four way battle during the opening two laps but eventually broke clear and stretched his lead to a comfortable gap by the half way stage.
"The speed on the first two laps was crazy," Green said after the event.
"A few of us were going backwards and forwards and it seemed really difficult to lead. But after a few laps, I seemed to find my flow, got to the front and was able to just ride my own race.
"I had a drama free run the whole race until the final lap when I crested a hill and jumped into a fallen lapped rider. It was a bit scary as I didn't see him until I was already committed but luckily no damage was done and I was able to pick it up and get to the finish line," he laughed.
When the finish flag flew on the eighth and final lap, Green had a lead of 2 minutes and 19 seconds over second-placed Jarrod Bewley (Husaberg).
"I'm pretty pumped to win. The Hattah race is such a cool event and the atmosphere is awesome. This is only the second time I have done it but I love racing here and the loop is unreal to ride.
The day proved to be one to remember for the Active8 Yamaha team with team-mate Tom McCormack taking a very respectable fourth outright and third in class.
The Australian off-road fraternity now continue to track west to WA for the jewel in the crown of off road racing, the Australian Four Day Enduro (A4DE). The event takes place in Hervey, South of Perth.
Former motocross world champion Townley flies back across the Tasman to prepare himself for his first assault on the fabled Tarawera 100 dirt bike marathon near Kawerau this coming weekend.
2013 – Hattah Desert Race results:
1. Josh Green – 4.22.36 (Yamaha)
2. Jarrod Bewley – 4.24.55 (Husaberg)
3. Peter Boyle – 4.28.59 (Honda)
4. Tom McCormack – 4.30.29 (Yamaha)
5. Ben Grabham   – 4.31.40 (KTM)
6. Warren Smart – 4:31:50 (Suzuki)
7. Chris Hollis – 4:33:38.777 (KTM)
8. Ivan Long – 4:47:31.761 (Husaberg)
9. Matthew Fish – 4:54:48.804 (KTM)
10. Nathan Trigg – 4:55:31.736 (KTM)
Also:
15. Ben Townley – 5:05:49.128 (Honda)
Photo courtesy Yamaha