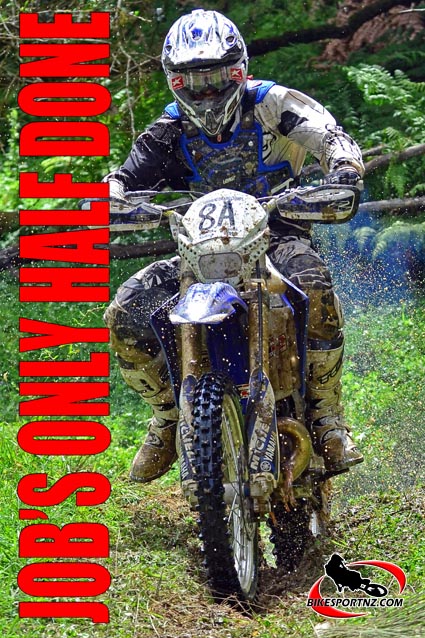 Mokau's Adrian Smith is national cross-country champion for another season, but he says his job is only half done … he wants to do the double again.
The 27-year-old sheep and beef farmer successfully defended his 2012 New Zealand Cross-country Championships crown when he wrapped up the 2013 series last month, winning the title with one round to spare, and he therefore heads to the final round in Central Hawke's Bay this weekend with nothing left to prove.
But that doesn't mean the Yamaha ace won't be racing for the win near Waipukurau on Saturday, a champion's mind-set that has seen him win four national off-road motorcycle titles in the past few years.
But he is equally determined to retain his outright national enduro championship crown, a title he won for the first time last season, and hopefully also again scoop up the class honours while he's at it.
The Yamaha New Zealand Enduro Championship series reached the halfway stage at Waimiha last weekend, with Smith again reluctantly settling for the runner-up position on the day, once more behind this season's dominant force on the enduro scene, Aucklander Chris Birch, (KTM).
Smith (Blackwoods BikesportNZ.com Yamaha YZ250) believes he still has a good chance of winning the national enduro title – and matching his double-title success of last season – but he is also a realist and knows that Birch is steadily building a points advantage that may soon be impossible to overcome.
"At the end of a hard day, Chris (Birch) beat me at the Waimiha enduro by just 48 seconds. It was pretty close, definitely a good battle," said Smith.
"Unfortunately, if he keeps on winning like that, he'll wrap up the title early and I don't want him doing that."
Smith is first equal in the battle for over-200cc two-stroke class honours, level pegging with Whangamata's Jason Davis (KTM), and that's another fight he's hoping to tilt his way before the enduro season wraps up in Tokoroa in September.
But this Saturday Smith will be stamping his authority on the national cross-country scene as that competition wraps up for another season.
He will be using the two-hour race at Ashley Clinton, off State Highway 50, halfway between Norsewood and Waipukurau, as a sort of training session for his enduro campaign that still has four rounds remaining.
Saturday's cross-country race begins with a shotgun blast at about midday.
© Words and photo by Andy McGechan, www.BikesportNZ.com