BIRCH WILL TAKE SOME BEATING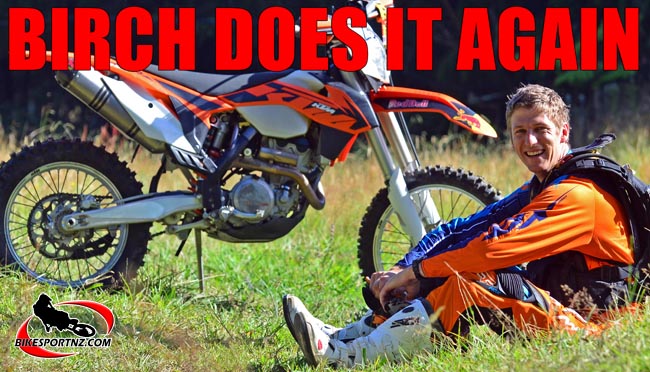 With three wins from three starts so far this season, Auckland's Chris Birch has established a benchmark in New Zealand enduro racing this season that will really take some beating.
The 32-year-old from Glen Eden was the dominant rider again on Saturday, winning the third round of eight in the Yamaha New Zealand Enduro Championships on the Kapiti Coast and thrusting himself further in front in the hunt for outright series honours.
His win in the Puketiro Forest, near Wellington, on Saturday also extended his lead in the battle for over-300cc four-stroke class honours.
Just back this season after a two-year stint of racing in South Africa, multiple former New Zealand champion Birch has wasted no time in reasserting his authority at home.
He enjoyed an eight-point outright lead in the Kiwi series over joint No.2 men Jason Davis, of Whangamata, and Adrian Smith, of Mokau, before racing began on Saturday and now he is even further in front, with Davis keeping up the pressure in finishing second outright on Saturday and Smith still threatening in finishing third.
Birch's hat-trick of wins also mean he also has firm control of the battle-within-a-battle for over-300cc four-stroke class honours, with his nearest rival, fellow Aucklander Chris Power, finishing fourth overall and obviously some distance behind Birch on Saturday, meaning Power has therefore slipped further behind Birch.
"The course was steep, with lots of tree roots to catch you out," said Birch.
"But the special tests were open and fast, a lot on gravel roads. I just rode smooth and kept it safe."
Meanwhile, Davis (KTM 250 XC) and Smith (Yamaha YZ250) remain close together at the top of the over-200cc two-stroke class standings.
Defending outright national enduro champion Smith was philosophical about his weekend's result.
"I made a few mistakes today and it cost me.
"I had a couple of crashes and I'm actually still sore after my crash at round two of the New Zealand Cross-country Championships in Taranaki (in March)."
Smith went on to wrap up the national cross-country title for a second consecutive season, but the enduro nationals is now his main focus.
"There's still a long way to go (in the enduro nationals) and anything can happen. I'll just keep applying pressure and see where that takes me."
Auckland's Freddie Milford-Cottam finished 10th overall in the Puketiro Forest on Saturday and this gives him a slight edge over Hokianga's Damon Nield – who was placed 11th on the day – for bragging rights in the battle-within-a-battle in the expert under-200cc two-stroke class glory.
Auckland's Callan May continues to lead the expert under-300cc four-stroke class, while Tokoroa's Sean Clarke remains top dog in the veterans' (over 40 years) division.
The series now heads to Waimiha, in the King Country, on May 11. It wraps up near Tokoroa on September 21.
© Words and photo by Andy McGechan, www.BikesportNZ.com