It is just a final few throws of the dice now to wrap up the 2013 national superbike season.
Defending New Zealand superbike champion Robbie Bugden has stolen a march on his rivals this season and it will now take a superhuman effort for any of the Kiwi contenders to catch and pass the likeable Australian.
Bugden (Triple R Suzuki GSX-R1000) is a whopping 24 points clear of his nearest rival, Feilding's Craig Shirriffs (Suzuki New Zealand GSX-R1000), after three of five rounds and, with just 100 points still on offer and only four races remaining, the mathematics are chilling.
Even if Bugden is beaten into second place by Shirriffs in each of the remaining four races – two superbike class outings at Hampton Downs this weekend (March 16-17) and two more at Taupo on March 23-24 – the Brisbane man will still win the title by four points.
In the six superbike races run thus far – two each at Ruapuna, Levels and Teretonga – Bugden has won five of them, his only set-back coming when Shirriffs snatched away the win in the day's second race at round two, on Timaru's Levels Raceway.
It's fair to say that, with such a mathematical advantage, Bugden looks well set to continue on and wrap up his fifth New Zealand superbike title.
But anything can happen in motorsport and a minor slip-up, a rare third-placing by Bugden, a flat tyre, fuel blockage or snapped chain, and an upset is on the cards.
Then there is the "spanner in the works" factor, with any of half a dozen riders capable of springing an upset win.
Wellington's Sloan Frost (BMW) (pictured above) could be a major player this weekend and his performances, usually very good at Hampton Downs, could have a huge influence on how things stack up in the final analysis.
But there are others, too, who could step it up this weekend.
Christchurch's Dennis Charlett (Underground Brown Suzuki GSX-R1000) is one of those men expected to fire on Sunday.
Charlett is third in the championship standings, albeit a massive 39 points behind Shirriffs, and Hamilton's Nick Cole (Red Devil Racing Kawasaki ZX10R) is fourth overall, another seven points further back.
Meanwhile, in the fiercely-fought 600cc Supersport class, Canterbury's John Ross (Repsol Suzuki GSX-R600) has as massive advantage at the top of the standings.
Christchurch man Ross arrived at round three at Teretonga just five points in front of his nearest challengers for the title, Katikati's Rhys Holmes (John Tuhoe Racing Yamaha R6) and Christchurch's Jake Lewis (Bob McCleary Yamaha R6), but he ended the day sitting a whopping 30 points clear at the top, ahead of new No.2 rider Jaden Hassan (Homebuyers Reports Yamaha R6).
Hassan, battling through the pain barrier after breaking bone in his hand at the previous round, finished a remarkable third and second in the two 600 Supersport race at Teretonga to put his campaign back on track.
The 31-year-old Ross scored back-to-back wins at Teretonga to place himself in a commanding position for the championship with just the two North Island rounds remaining.
But, even with such an advantage, Hassan remains a threat to Ross.
"I didn't quite do enough to beat John Ross at Teretonga, but I know I can win races at the two North Island rounds," said Hassan.
"I hold the lap record at both these North Island tracks. Unfortunately John Ross can probably win the championship from here, even just by finishing second to me, if that's how it works out.
"Put it this way, I wouldn't wish ill luck on anyone but, if I was to win every race from here on and he was to finish third or fourth a couple of times, I wouldn't be disappointed."
In the 125GP and 250cc Production classes, Australian teenagers Troy Guenther and Luke Burgess enjoy their respective leads, while Balclutha's Richard Newbery dominates the Superlite championship on his Kawasaki. Wellington's Hamish Murphy heads the Pro Twins 650 series, although Lower Hutt's Dean Bentley is catching up.
© Words and photos by Andy McGechan, www.BikesportNZ.com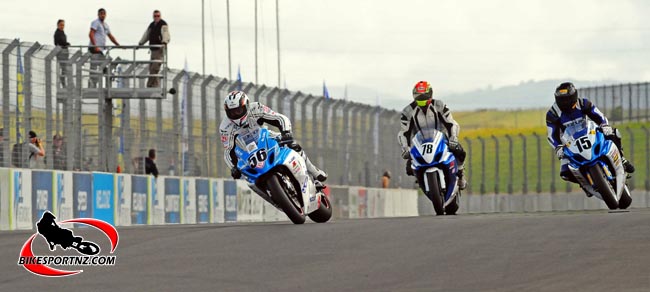 Leading standings after three of five rounds:
Superbikes –
Robbie Bugden (Australia) Suzuki 145; Craig Shirriffs (Feilding) Suzuki 121; Dennis Charlett (Christchurch) Suzuki 82; Nick Cole (Hamilton) Kawasaki 75; Sloan Frost (Wellington) BMW 68.
600cc Supersport –
John Ross (Christchurch) Suzuki 115; Jaden Hassan (Auckland) Yamaha 85; Rhys Holmes (Katikati) Yamaha 84; Jake Lewis (Rangiora) Yamaha 81; Jeremy Holmes (Invercargill) Honda 74.
Superlite –
Richard Newbery (Balclutha) Kawasaki 212.5; Gavin Veltmeyer (Auckland) Suzuki 127.5; Glen Agate (Oamaru) Kawasaki 126.
Pro Twins –
Hamish Murphy (Wellington) Suzuki 176; Dean Bentley (Lower Hutt) Suzuki 163; Nick Southerwood (Auckland) Suzuki 148.
125 GP –
Troy Guenther (Australia) Honda 216; Scott Kinder (Geraldine) Honda 136; Scout Fletcher (Christchurch) Honda 136.
250 Production –
Luke Burgess (Australia) Kawasaki 75; Chris Sutcliffe (Timaru) Kawasaki 120; Grant Ramage (Timaru) Kawasaki 120.