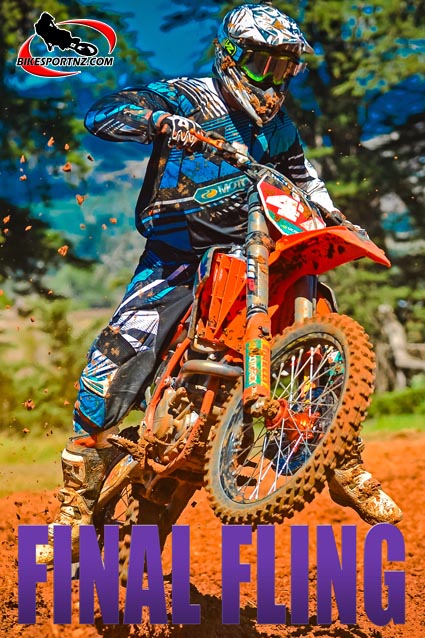 The New Zealanders are under siege but Kiwi spirits remain high as the final assault looms this coming Easter Weekend.
Mount Maunganui's Cody Cooper (Suzuki) is one rider who will surely have his defences up as he returns to the race track for the fourth and final round of the New Zealand Motocross Championships at Taupo on Sunday.
Cooper leads the premier MX1 class after the first three rounds of the Backflips Clothing-sponsored series, a solid 31 points clear of Scottish invader Billy MacKenzie (Yamaha), with two Australian guns – KTM riders Todd Waters (pictured here) and Kirk Gibbs – also putting up a barrage of fire from third and fourth positions respectively.
Next best in the rankings is former New Zealand and Australian MX1 champion Daryl Hurley (Suzuki), of Hawera, but he is a distant 20 points behind Gibbs.
"I have a good lead in the championship but I still want to go on and win all three MX1 races at Taupo too," declared the 29-year-old Cooper.
That seems a distinct possibility too. Of the nine MX1 class races thus far, Cooper has won six of them and not been below third place in the others.
"My confidence is high at the moment and that's good with the Australian nationals also coming up for me soon too," said Cooper.
Defending national MX1 champion Ben Townley, of Tauranga, remains sidelined with injury but his Australian Carlton Dry Honda team-mate, Ford Dale, will be coming across to race the MX1 class for Honda on Sunday.
Meanwhile, in the MX2 (250cc) class, Queenstown's Scotty Columb has the advantage.
The Yamaha ace would normally classify his 14-point lead over Australian KTM rider Brock Winston as "comfortable", but Columb perhaps feels anything but relaxed with an injured hand still causing him some grief.
But Kiwi international Columb is a fighter and has been in tough situations before. If he can remain resolute in the face of Winston and the other key challengers – Mount Maunganui's Rhys Carter (Suzuki) and Waitakere's Ethan Martens (Yamaha) – Columb should emerge on Sunday afternoon with his first national motocross title.
Winston would need to win all three races at Taupo and Columb finish worse than runner-up in at least one of them if the balance of power is to swing away from the Kiwi.
Rotorua's Cameron Vaughan (Yamaha) leads the 125cc class but only by a slim four-point margin from Te Puke's Logan Blackburn (Yamaha).
This is one class that really will go down to the wire.
Racing on Sunday is set to kick off just after 10am.
The Taupo track will also be a hive of activity on the Saturday of Easter Weekend, the sand and pumice circuit hosting the second annual Rock Oil Oceania Vintage Motocross Championships.
Racing features dirt bikes ranging in age from 1975 to 1990. There will be five rounds of racing, including two rounds of combined 'age of rider' and 'age of machine' classes.
Leading standings in the 2013 New Zealand Motocross Championships after three of four rounds:
MX1 class:
1. Cody Cooper (Mount Maunganui, Suzuki) 214 points;
2. Billy MacKenzie (Scotland, Yamaha) 183;
3. Todd Waters (Australia, KTM) 169;
4. Kirk Gibbs (Australia KTM) 158;
5. Daryl Hurley (Hawera, Suzuki) 138.
MX2 class:
1. Scott Columb (Queenstown, Yamaha) 184;
2. Brock Winston (Australia, KTM) 170;
3. Rhys Carter (Mount Maunganui, Suzuki) 157;
4. Ethan Martens (Waitakere, Yamaha) 153;
5. Darryll King (Hamilton, Yamaha) 142.
125cc class:
1. Cameron Vaughan (Rotorua, Yamaha) 201;
2. Logan Blackburn (Te Puke, Yamaha) 197;
3. Aaron Wiltshier (Tauranga, KTM) 159;
4. Cohen Chase (Taupo, KTM) 136;
5. Cam Negus (Rotorua, Husqvarna) 132.
© Words and photo by Andy McGechan, www.BikesportNZ.com