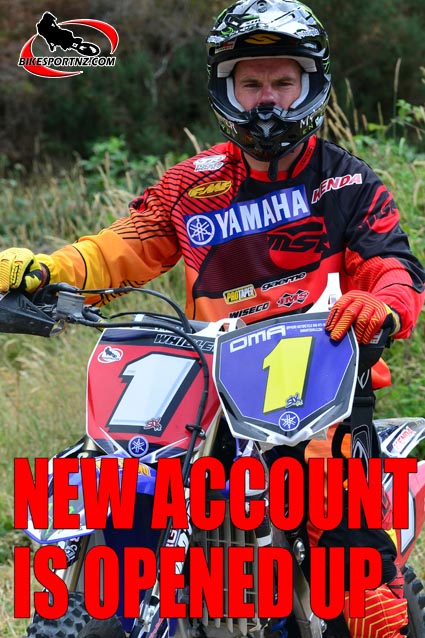 Pahiatua's Paul Whibley has opened a fresh account in the United States for the new season, winning the second round of the Southern Off-Road Championship Series at Milledgeville, Georgia, at the weekend.
The 34-year-old former Manawatu forestry worker, affectionately dubbed "The Axeman" on the motorcycling scene, won two major cross-country titles in the US last season, clinching the Grand National Cross-country Championships (GNCC) and the Off-Road Motorcycle and ATV (OMA) crown as well.
This makes him favourite to win both these titles again in 2013, and so, although still a little jet-lagged, the Yamaha hero opted for a relatively low-key appearance to start his campaign.
"I was still feeling a little jet-lagged as we headed off to a SORCS event, about four hours' drive from the AmPro Yamaha base. When we arrived at the track I felt more like taking a nap than racing but I knew, whatever the result, it would be good for me to get back into the swing of things.
"I had briefly run the bike in before some rain had turned the track at our base into a swamp. The basic setup was there, with only a few extras needed adding and some minor set-up adjustments that would have to wait until after this race.
"The start went well, rounding turn one in second, following for the first half a lap before finding a slightly open straight where I was able to make a pass. The sandy conditions were pretty much perfect, not really rough but well watered.
"Over the first couple of laps I maintained a modest pace until I felt like the brain fog cleared a little and I was able to click it up a gear.
"The track, although not too tight, was quite one-lined and passing was tough and with a six-mile loop we were quickly into traffic. Big thanks to the guys that did their best to move over as we came by.
"Dennis Johnston loaned us one of his young helpers who did a fine job of operating the fuel dump can for me.
"With the two-hour event coming to a close, I safely took the win. It was good to be back racing and was a great warm up before we head to the first OMA in Alabama in a couple of weeks."
Whibley and his wife, Katherine, left New Zealand soon after Whibley had raced at and won the river race segment of the New Zealand Motocross Grand Prix at Woodville at the end of January.
His focus now is preparing for the start of the separate GNCC and OMA competition. In both instances, Whibley will race with the No.1 on his Yamaha YZ450F bike, a ranking he is very keen to retain this season.
© Words and photo by Andy McGechan, www.BikesportNZ.com