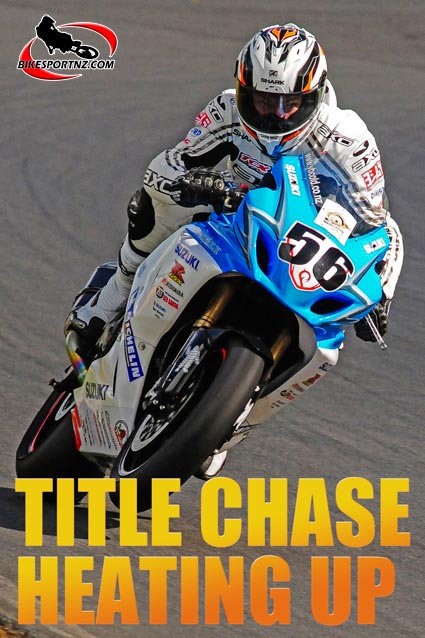 The New Zealand Superbike Championship is heating up as it moves to Invercargill's Teretonga circuit this weekend, with at least three riders expected to be fighting for the lead.
Australian Robbie Bugden, the reigning champion, had looked set for a straightforward ride to his fifth title in the absence of perennial rival Andrew Stroud, the Hamilton racer out with a broken collarbone.
But other Kiwi riders are stepping up to the mark, especially Feilding racer Craig Shirriffs (pictured here), who won race two at Timaru last weekend.
And Hamilton's Nick Cole – racing a Kawasaki against the Suzukis of the other two – finished within two-tenths of a second of Shirriffs in that race. He and Shirriffs are both feeling confident going into the southern round.
"I feel we're where we should have been for the last couple of years," Shirriffs said. "We've struggled with things going wrong at the wrong time but we've slowly eliminated those problems and this year we've started off very well.
"I love the Teretonga circuit, it's probably my favourite." The fast Loop corner at the end of the main straight, which goes through more than 180 degrees, was especially exhilarating," Shirriffs said.
Cole and his team made a major breakthrough with the set-up of the Kawasaki at Timaru and in race two he caught the leaders from more than two seconds behind.
"All the hard work that has gone into the bike lately, to manage to pull those riders back in and run the pace till the end was a huge success and a big warning shot to the other riders that we're here to win," Cole said.
Bugden, a full-time professional racer who also competes with success in the tough Australian championship, remains the man to beat but says he knows it won't be easy. As well as Shirriffs he sees riders like third-placed Dennis Charlett (Christchurch, Suzuki) and Sloan Frost (Wellington, BMW) as threats, but he is feeling positive.
"We've won three of the four races, we're doing all right," Budgen said. "And Teretonga is my favourite circuit in New Zealand, it's nice and flowing."
The 600cc Supersport championship is wide open after some of the top riders suffered setbacks at Timaru.
Christchurch Suzuki rider John Ross leads this category, in spite of being forced off the track at Timaru by a crash ahead of him. Just five points back are two Yamaha riders, Rhys Holmes from Katikati and Christchurch teenager Jake Lewis.
Spectro BikesportNZ.com Kawasaki ace Seth Devereux won the first of the two 600 Supersport races at Timaru and he is now up to fifth in the series with Teretonga one of his favourite circuits.
One of the surprises of the season is the performance of Wellington's Hamish Murphy, holding a substantial lead in the Pro Twins class, riding a Suzuki SV650. Murphy had never raced a bike before last winter.
Two Australian teenagers lead their classes, Luke Burgess with a 100 percent win record in 250 Production and Troy Guenther in 125 GP. Richard Newbery leads Superlite and the Spike Taylor-Astrid Hartnell team top the points in sidecars.
Superbikes and Supersport have qualifying on Saturday and two long races on Sunday. Other classes have one race on Saturday afternoon and two on Sunday.
Words by Bernard Carpinter
© Photo by Andy McGechan, www.BikesportNZ.com