'FOGGY' NOW 'INCREDIBLE HULK'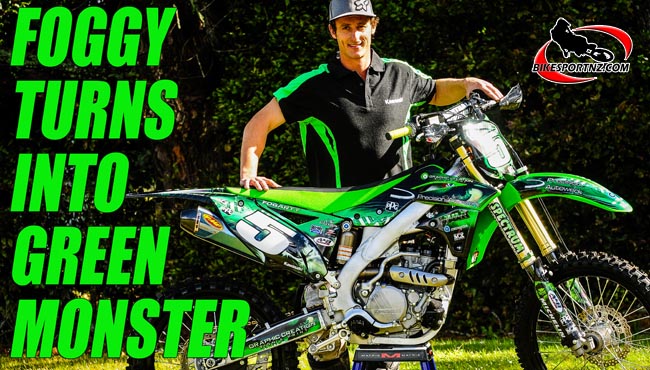 Auckland motocross ace Shaun Fogarty is now a confirmed "greenie", joining the Kawasaki family for the new motocross season, and he's determined to swap the No.5 on his bike for a slightly smaller number in 2013.
The 30-year-old, who works as a builder at Auckland's Q Construction, arrived at the Auckland Motocross Championships at the weekend sporting new colours, his 2013-model Spectrum Kawasaki KX250F decked out in a fabulous "Incredible Hulk" colour scheme.
He was using the event to begin his build-up for the 2012-13 motocross season, although it was a tough day for him at the Tuakau circuit as persistent rain squalls made racing on the slick surface something of a lottery.
Fogarty finished eighth, seventh and fifth in his three MX2 (250cc) class races on Sunday – showing improvement with each session – although they were not exactly the results he was planning.
Nonetheless, he felt it was a positive start to his new season campaign, finishing the day ranked fifth overall.
"It was a bit of a rough day on the new beast. Maybe it was the 'Hulk' coming out," he laughed.
"I rode a demo bike last weekend and only picked up the new KX250F during the week. I had only been on the new bike a few hours, just to run it in, and this was my first proper race on it. I have to say I felt pretty comfortable on it straight away.
"I am a lot better prepared for the nationals than I was last year and I come into the season fully fit and raring to go.
"I certainly want to finish higher up than fifth in the MX2 class this season.
"I crashed a few times today but the conditions contributed a bit to that and I know what I'm capable of. It was a little difficult getting used to racing a four-stroke after spending so much time on a two-stroke motorcycle last season.
"I have a really good crew behind me, especially Brent Martin at Spectrum Motorcycles and Scotty Wilkins from Kawasaki New Zealand.
"I want to say a big thanks to everyone helping and to my sponsors, Precision Autowerk, Graphic Creation, Spectrum Motorcycles, Kawasaki New Zealand, Bel Ray Oils, Scott goggles and FMF mufflers."
Also beginning his build-up for the upcoming season was Taupo Kawasaki ace Nick Saunders.
He took his Darryl August Motorcycles KX450F to finish a close runner-up to Mangakino's Kayne Lamont (CMR Red Bull BikesportNZ.com KTM) in the MX1 class, Saunders winning the third and final MX1 race of the day in spectacular style.
© Words and photo by Andy McGechan, www.BikesportNZ.com