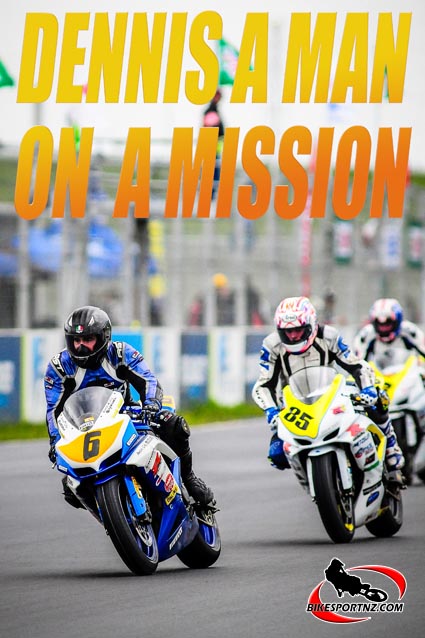 Christchurch's Dennis Charlett is counting down the days until he accepts his latest big motorcycling challenge … and so are many race fans.
It is less than two weeks now until the 2012 Suzuki Tri Series kicks off at Hampton Downs, just north of Huntly, and the champion Canterbury racer is fizzing to go.
Charlett finished runner-up to fellow Suzuki racer Glen Skachill, of Wellington, in the 600cc class in the Tri Series last season, but this year he is stepping up in the horsepower stakes and also planning to take another step up on the podium.
The three-time former and current New Zealand 600cc supersport champion will step back onto a 1000cc superbike for the 2012-13 season, a frenzied few months of activity that kicks off with the popular Suzuki Tri Series before running on to the nationals in January and March.
He last raced a superbike in New Zealand in 2004, finishing fourth overall that season, before heading off-shore to clinch the South Australian and Victorian superbike titles in 2006.
He returned to win the New Zealand 600cc supersport title in 2008, before making it back-to-back wins by again dominating the 600cc class in 2011 and again in 2012.
He feels he has the pace to win the formula one/superbike class at the Tri Series and, if his early warm-up stints on the ex-Andrew Stroud Suzuki GSX-R1000 are anything to go by, he may be right.
"I want to use the Tri Series to measure where I am at as regards a possible result in the nationals and, although I don't want to risk it all in the Tri Series with the national title my main aim, this Tri Series has enormous status on its own and I'd certainly love to win there too," said the 44-year-old Charlett.
"It's a very busy time of the year for the road-racing community, with about eight weekends on the trot for me.
"I'm going pretty well at the moment and I expect to improve some more when the racing proper starts. There's nothing like actual racing to sharpen you up," said Charlett.
"I'm really excited about the season ahead. Racing the 1000cc superbike has rejuvenated me. The superbike is quite a different beast to ride and I have to be careful on the throttle. You have to have a lot of respect for the throttle."
Charlett he says he's very grateful for the support he's been given to allow him to create the Underground Brown Race Team.
"If it wasn't for Tony Brown, I wouldn't be able to do this at all. He has been a massive help to me."
In addition to facing four-time consecutive Tri Series winner and defending F1 title-holder Andrew Stroud, Charlett will also have to cope with such blazingly fast individuals as fellow Christchurch rider James Smith (Honda), Hamilton's Nick Cole (Kawasaki), Wellington's Sloan Frost (BMW), Feilding's Craig Shirriffs (Suzuki) and Whakatane's Tony Rees (Honda), with international visitor Thomas Kreutz also expected to challenge for the title.
Kreutz is the reigning German supersport champion and he will be racing both the F1 and F2 class on a Yamaha R6.
The Suzuki Tri Series features races for F1, F2, F3, sidecars, post classic pre '89, BEARS, and 450cc supermoto.
Check for more information online at www.cemeterycircuit.co.nz
2012 Suzuki International Tri-Series calendar:
Round 1: Hampton Downs, December 8
Round 2: Manfeild, December 16
Round 3: Wanganui's Cemetery Circuit, December 26
© Words and photos by Andy McGechan, www.BikesportNZ.com
Kreutz photo supplied.