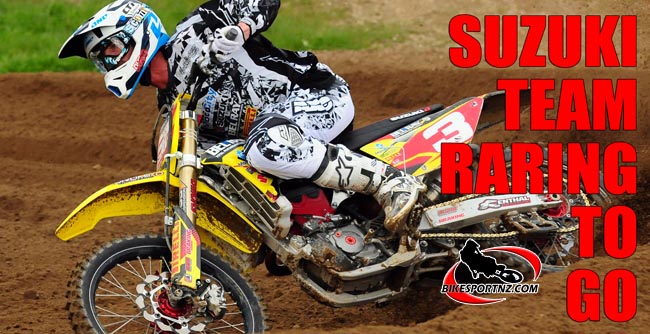 Team Suzuki simply can't wait for the new season to heat up.
The two-rider squad has been undergoing final preparations over the past few weeks, using events such as the Labour Weekend Motocross Extravaganza at Taupo as a test session, with major pre and post-Christmas events and the New Zealand Motocross Championship dates fast approaching.
The Bel-Ray Lubricants Suzuki team, run out of Moto City Suzuki in Mount Maunganui, will be a force to be reckoned with at the upcoming Whakatane Summercross on December 29-30 and also at the annual Woodville Motocross GP on January 26-27, but it is the New Zealand Motocross Championships which command most of their focus.
The 2013 motocross nationals kick off just outside Timaru on February 10 and, if some of the recent powerful performances by the team riders are any indicator, some of the key silverware could be heading across to the Suzuki enclosure this season.
Mount Maunganui's Cody Cooper heads the Bel-Ray Suzuki Team line-up and he will race the awesome Suzuki RM-Z450 in the MX1 class. He will be joined by house-mate Rhys Carter, assigned the MX2 class duties aboard the smaller, lighter and more nimble RM-Z250 machine.
"We are very excited by the coming season with what can be achieved aboard these very competitive Suzuki machines", said Bel-Ray Suzuki team manager Andrew Hardisty, of Mount Maunganui.
"Suzuki is providing us with fantastic support once again this year and the key focus is on us gaining race and championship wins.
"This season could be one of the most exciting yet. Both the MX1 and MX2 classes are very fiercely contested that it requires immense skill and dedication by the riders and their support crew. I know we have the team of individuals who can step up to those demands."
After Timaru, the four-round national series heads to Patetonga for round two a fortnight later (February 24), with round three at Pukekohe on March 10 and the fourth and final round set for Taupo on March 31.
Team Bel-Ray Suzuki team is supported by Bel-Ray Lubricants, Moto City Suzuki, Pirelli, Axo racewear, DRC, Zeta, Braking, Dirt Guide, Yoshimura, Taupo Diesel Solutions, Renthal bars, Renthal chains and sprockets, BikesportNZ.com, Dirt Rider Downunder Magazine, Epic Decals, Hi-Flo filtro, Koromiko Engineering, Teng Tools and The Interislander.
© Words and photo by Andy McGechan, www.BikesportNZ.com