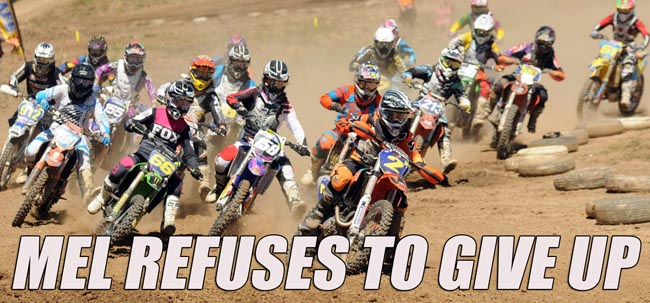 She's No.2 in New Zealand and now No.9 in Australia as well, but Rotorua's Mel Patterson is happy to race with any number at all after surviving a cancer scare.
Told by doctors six years ago that she'd never race motocross again, Patterson responded in the only way she knows how, by refusing to give up.
She underwent several operations, including one under her arm, but her doctor's comments motivated her to prove them wrong.
She races a KTM 250 SXF and, with her former New Zealand motocross champion father Bryan Patterson to mentor her and huge support from her mum Lee-anne, she's still up with the best in the business.
Melissa Patterson finished runner-up at the recent New Zealand Women's Motocross Championships in a muddy Marlborough, finishing just behind Rangiora's Kimberley Murphy.
Then she crossed the Tasman to race in the Australian Women's Motocross Championships in Albury, Wodonga, recently, achieving a No.9 ranking against some of the Southern Hemisphere's elite female riders.
She is pictured above, riding KTM No.180, at the left of the bunch charging into turn one at Albury.
The 18-year-old worked hard the past year to raise the $3000 she needed to make the trip.
"Racing motocross is everything to me … my life. I just couldn't imagine giving it up."
The racing conditions at the New Zealand nationals and the Australian nationals could not have been more contrasting for Patterson.
"The New Zealand Champs were held in Blenheim, on a natural terrain track. The weather was really bad which forced the organisers to cancel the first day of racing.
"The second day of racing the track was very slippery and muddy. I was trying to play it as safe as I could as I was going to Australia straight after racing and didn't want to be injured. After struggling in the mud, I ended up taking second overall in the senior championship class.
"Then it was all on to get all my race gear cleaned up and ready to catch the plane to Melbourne, Australia.
"As dad and I flew over, I felt my mind-set at the time very good, feeling confident in my preparation towards the event.
"Thursday, we set up the bike and go to a track in Wodonga to run it in, felt really good on the new 2013 KTM 250 SXF. Later on that day we went and had a look at the track, which is located in the middle of Albury and Wodonga it is on the border of Victoria and NSW.
"The track was extremely hard pack and was on flat ground with lots of tabletops, a double and a set of rollers. It was very fast looking.
"Saturday we got up and it is very hot, 26 degrees, which is very hard to race in, being more used to our cold NZ weather.
"Sign on and scrutineering was at 10am to 11am then we had a 20 min qualifying race the track was fast and I lined as they ripped the track and watered it heaps to contain the dust for the day. I did not qualify in the top 10 as I didn't put in a fast lap time, which I thought was okay as the start straight was so fast I found you could get a holeshot from anywhere.
"First 20-minute race was up in a flash I was quite nervous as I found some of the girls had a lot of talent but tried to stay focused on my riding. I got a good start and was sitting in fourth for about three laps until I got pushed over a berm, which, unfortunately, caused me to lose a few positions. I ended up eighth in that race.
"Next race I felt more calm had a reasonable start then three riders went down in front of me which meant I was sitting in sixth comfortably as I tried to stay with the girl in fifth, I ended up going down and struggled to get my bike back up, coming from dead last I caught back up to ninth in that race.
"Sunday I was feeling very sore and tired the intensity level of the way the girls race over here is crazy … good though! I found myself struggling to hold onto my speed for the whole 20 minutes as I felt my speed was around sixth. I just wasn't fit enough for how intense the racing was and the hard ground really paid a toll on my arm pump and I was fighting to hang on I ended up with three 11th's, which I was gutted about.
"Overall I ended up coming ninth in the senior championship class. All and all I felt it was an amazing experience and opportunity and has for sure put a new outlook on racing for me now back in NZ. I will be coming back stronger.
"I am quite happy with my result as it was my first time in Australia competing and the talent over there is huge.
"I would definitely love to come back next year and try my luck again now that I know what to expect.
"I would never have been able to go over to Australia without the help and support of all my sponsors and especially my dad, I would be lost at the track without all the efforts he puts in."
Melissa Patterson is supported by Golds Health and Fitness, her trainer Vince Bourne, Fly Racing, Galaxy Travel, Leatt Braces, Pinnacle Insurance, Owen Builders, Patterson-O'Connor Motorcycles, BikesportNZ.com, Wodonga KTM and Jeff Leisk of KTM Australia.
"Without you guys, my goals and dreams wouldn't have been achieved."
© Words by Andy McGechan, www.BikesportNZ.com
© Photo by 626pix