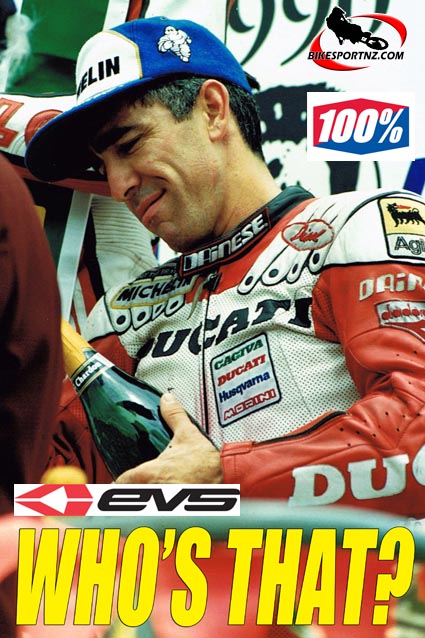 The BikesportNZ.com photo archive is a treasure trove of classic old snaps.
We have decided that each week we are going to run an archive photo or two – a bit of a guessing game for you. See if you can answer the questions about BOTH photos.
We'll offer you a few clues, but we also want to keep you guessing.
Check back and we'll give you the answers next week, along with our next "Who's that?" feature photos.
Crown Kiwi – EVS – 100%
Plus, we have a sponsor for the feature. Thanks to Crown Kiwi, EVS and 100% apparel and accessories, we can offer a small prize each week – a tee-shirt or a cap – to the first respondent with the correct answers.
Anyway, it seems our competition is still a bit tough because nobody could correctly answer the questions about BOTH photos.
So, we have given the prize for last week's quiz to Whakatane's Darren Capill. He came closest by correctly naming all three riders in photo one and was half right in naming the rider in the black and white photo … he got the surname correct but the Christian name wrong.
We have had a few comments from the "Tar Babies" that they can't answer the questions about the "Dust Bunnies" and vice versa. This week we are catering more for the tarseal community.
There should be plenty of correct answers to the easy questions about these two photos.
Next week we'll feature dirt bike characters again.
Clues for photo above:
This photo was taken at Manfeild's final round of the World Superbike Championships in 1990. The rider is a French world champion. Can you name him?
But we do also need you to answer the questions about the photo below.
Clues for photo below:
This photo was taken at the final round of the inaugural Superbike World Championships. He's a small-framed Italian superbike rider who had also previously raced the motocross world championships. Can you name him?
Last week's characters revealed:
The main photo displayed last week was taken during the New Zealand Motocross Championships in 1987. We asked you to name the three riders. They are (from left) New Zealand's Murray Anderson and British pair Greg Hanson and Perry Leask.
The second item last week was a black-and-white photo of the Roddy Shirriffs Memorial trophy winner at Woodville Motocross in 1985. A couple of people incorrectly identified him as Hawke's Bay's Wayne McKinley but it is, in fact, his younger brother David McKinley, also known as 'Willis'.
Well done to those who emailed us with their answers last week.
Email your answers to this week's quiz to contest@bikesportnz.com
Note: Be careful to answer the questions being asked. We may ask for a time, a place, an event or ask for one or several of the individuals in the two photos to be identified.
© Photos by Andy McGechan, www.BikesportNZ.com