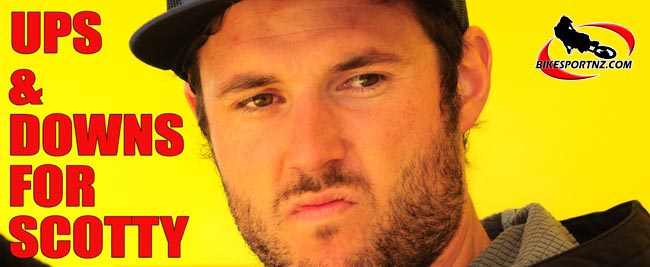 Queenstown's Scotty Columb had a last minute call-up to race as a relief rider in the Lites (MX2) class across the Tasman at this season's Australian Motocross Championships.
He has acquitted himself very well, scoring good points and racing at the pointy end of the field, but, sadly, that looked all about to end as his contract was suddenly withdrawn.
Columb was running 11th overall after five of 10 rounds and panic set in as round six at Hervey Bay, Queensland, was just around the corner.
But, no sooner had one door closed when another opened and he stepped into a vacant spot in the Raceline Pirelli Suzuki Team. His campaign could continue.
He contacted his friends at BikesportNZ.com to tell us the story.
"I am finding it tough to stop watching this 'Breaking Bad' TV series I have on my laptop to write this report on the plane home to NZ from Oz," said Columb.
"Three weeks into the mid season break from the Australian champs, I received an email that Suzuki Australia no longer required me to compete in the MX2 championship, as Suzuki Japan wanted to focus on chasing an MX1 title.
"In essence, I was left high and dry, plain left out in the Queenstown cold without a team. I called slash emailed everyone I could think of but had no success. To add to the pain I had my wisdom teeth taken out and they became poisoned, causing me discomfort. Shit times.
"Then a couple days later the owner of Raceline Suzuki rang and said if I can get on a plane they would have a bike ready for me to swing a leg over. So I booked some flights Wednesday night, rode on Thursday for 70 minutes at a track close to home … in the sun it was eight degrees Celsius!
"To make things worse I made the rookie mistake of wearing worn out jocks (I'm on a tight budget). This caused severe monkey butt. After riding I drove six hours to quake central slept, then on Friday I boarded a plane and set off to Hervey Bay, three hours' drive north of Brisbane.
"Putting on shorts and a tee – that's right it's toastie in Oz – I set off to the track. Qualifying 8th on the sandy/slippery wet track was ok because while it's not ideal for gate pick I felt pretty good on my new team bike, with a slightly different set up, but Suzuki DNA none the less.
"Race 1. Let's say I didn't get out of the gate first … around the top 15 mark. But I did cut through the field like a 'Ginsu knife' goes through an aluminium can on an advertisement for the best knife set ever made! On the last lap of the 15-minute moto I made a pass on Ford Dale for 4th  but he re-passed me two corners later. At race end I was 5th.
"Race two and the jump out of the gate was ok but I missed the timing on my 3rd gear shift and I was definitely at the back of the pack. Charging hard in the second short moto I pushed hard to get into the top 10 when tragedy struck and I tucked the front wheel.
"Remounting, I started to adjust my clutch as it had no free-play, however a different brand of clutch perch to my usual type which meant while I thought I was giving the cable less tension, I was actually doing the opposite which caused the clutch to slip. Slipping badly I was forced to nurse my bike home to 10th.
"Race 3 and it's my favourite race of the day. The 30-minute moto for men, manly men! The conditions were a lot hotter conditions than I have been used to. Wiping my brow and putting my helmet on, we set off for a sighting lap. Seeing a few alternative lines, we pulled back into the gates and waited for starters orders. I rounded the 124-metre start straight in about 15th position, avoiding a few riders lying on the ground I set into a good rhythm.
"I had ridden a total of 6 times in 6 weeks due to frozen conditions, sickness and dental treatment. So sucking some air where I could on the track and riding smooth lines, I conserved energy and was riding very fluent.
"I got up into 5th place. Slowly picking off riders I passed Adam Monea, then series leader Luke Stykes and started catching young Josh Cachia who was leading. However, with roughly five laps to go, I started having problems with my bike misfiring. This made me nervous I thought maybe  my mate, aka my fill-in mechanic, the infamous Tommy-D, had forgot to refuel me as the bike was slowing. However, I had double checked this and knew that wasn't the case. I was forced to ease up to the point where I could but could only manage second at race end. I was gutted as I had the fastest lap time of the race, however not the win.
"The cause I believe was a temperature sensor causing the bike to run burbly, as many teams have been having issues with this in testing conditions.
"So, in all, I am reasonably happy. I am still chasing that win and overall podium and it will come. I'm in Christchurch to do some coaching with a rider then back up to Motueka to train. Big thanks to Raceline Suzuki for taking on this extra work-load and giving me the opportunity to finish of this series as I am finally finding my old form of 2009."
After the weekend's racing, Columb is now up to ninth overall in the Lites (MX2) championship standings, just nine points behind fellow Kiwi Justin McDonald.
The other Raceline Pirelli Suzuki rider in this class, Errol Willis, is currently 11th overall, 25 points behind Columb.
The next round is set for Horsham, Victoria, on July 15.
© Andy McGechan, www.BikesportNZ.com