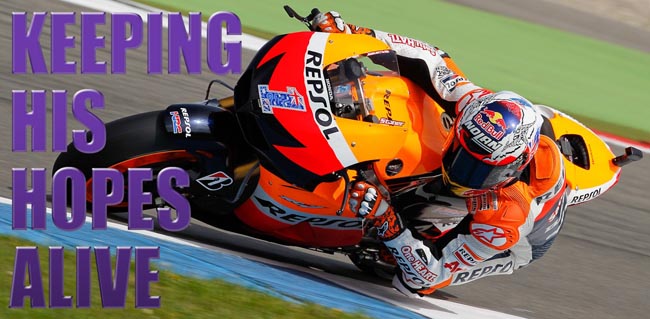 Australian Casey Stoner kept his title hopes alive by winning a race-long duel with championship leader Jorge Lorenzo in Sunday's US MotoGP at Laguna Seca.
As expected Stoner, Lorenzo and Dani Pedrosa soon broke clear of the rest of the field. Stoner had lost out to Repsol Honda team-mate Pedrosa into turn three of lap three, then stalked Lorenzo's Yamaha throughout the middle stages.
The only one of the trio to choose the softer rear tyre, Stoner nonetheless only got stronger as the race neared its conclusion.
The Australian made his victory pass by accelerating around Lorenzo on the home straight at the start of lap 22 of 32.
Lorenzo – on pole at Laguna Seca for four years in succession, but a faller in morning warm-up – threatened to retaliate, but Stoner finally broke clear to claim his third and final US GP win before retirement by 3.4s.
Despite the defeat, Lorenzo has increased his championship lead to 23 points over Pedrosa, who lost touch from the middle stages and crossed the line 7.6s from victory.
Stoner is a reduced, but still sizeable 32 points behind Lorenzo in third.
Lorenzo's Texan team-mate Ben Spies, who injured his heel in a qualifying fall, held fourth for much of the race – then fell from his M1 after a possible technical problem on the exit of the corkscrew and was bundled into the gravel, with nine laps to go.
Tech 3 Yamaha riders Andrea Dovizioso and Cal Crutchlow had been queued up behind Spies, with Dovizioso then keeping fourth from Crutchlow by less than 0.2s at the line.
Rookie Stefan Bradl had also been part of the fourth place battle but later lost out to Nicky Hayden, the Ducati rider finishing as the top American in sixth.
Team-mate Valentino Rossi's race came to an abrupt end when he fell from a lonely eighth on entry to the corkscrew with three laps to go. Hayden gave Rossi a lift back to the pits after the race.
Alvaro Bautista finished a US GP at his third attempt, claiming eighth for Honda Gresini, while Aleix Espargaro won the CRT battle with ninth place for Aspar.
Cardion AB Ducati's Karel Abraham finished tenth on his return to action, with the remaining four finishers – Randy de Puniet (Aspar), Yonny Hernandez (Avintia), Colin Edwards (Forward) and Ivan Silva (Avintia) were a lap down.
Michele Pirro fell at the Hairpin on the opening lap, with Pramac Ducati stand-in Toni Elias crashing out soon after. Mattia Pasini (Speed Master) and Danilo Petrucci (Ioda) retired, with James Ellison (PBM) joining Spies and Rossi in hitting the deck.
Wild-card CRT rider Steve Rapp (Attack Performance) was unable to start the race after being unable to lap within the 107% qualifying time.
MotoGP will now have its summer break, which will end with the second US round at Indianapolis from August 17-19 – by which time Rossi's 2013 plans could well be known.
From the ten of 18 rounds so far held, Lorenzo has claimed five victories, Stoner four and Pedrosa one.
US Grand Prix result:
1. Casey Stoner
2. Jorge Lorenzo
3. Dani Pedrosa
4. Andrea Dovizioso
5. Cal Crutchlow
6. Nicky Hayden
7. Stefan Bradl
8. Alvaro Bautista
9. Aleix Espargaro
10. Karel Abraham
11. Randy De Puniet
12. Yonny Hernandez
13. Colin Edwards
14. Ivan Silva
Standings after round 10 at Laguna Seca:
1       Jorge Lorenzo      Yamaha 205
2       Dani Pedrosa       Honda 182
3       Casey Stoner      Honda 173
4       Andrea Dovizioso Yamaha 121
5       Cal Crutchlow      Yamaha 106
6       Stefan Bradl        Honda 84
7       Nicky Hayden      Ducati 84
8       Valentino Rossi    Ducati 82
9       Álvaro Bautista    Honda 81
10     Ben Spies   Yamaha 66
11     Héctor Barberá    Ducati 60
12     Randy de Puniet  ART 33
=      Aleix Espargaró   ART 33
14     Michele Pirro       FTR 16
15     Mattia Pasini       ART 13
16     James Ellison      ART 12
17     Colin Edwards     Suter 11
18     Karel Abraham    Ducati 10
19     Yonny Hernández BQR-FTR 10
20     Danilo Petrucci    Ioda 9
21     Iván Silva   BQR-FTR 7