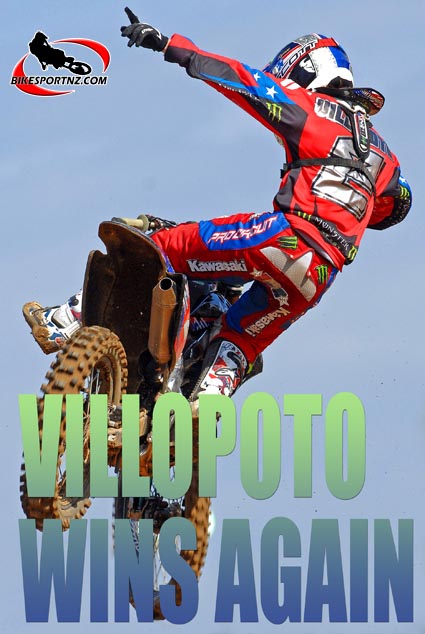 Kawasaki's Ryan Villopoto had already wrapped up the American Supercross nationals at the previous round but that didn't stop him coming out guns blazing at round 14 of the series at the Mercedes-Benz Superdome in New Orleans on Saturday night.
Villipoto stamped his authority by celebrating his ninth win of the season on Saturday, leading home Kawasaki's Josh Grant and Honda's Justin Brayton in front of more than 33,000 screaming race fans.
One race after capturing back-to-back Supercross Class Championships, Villopoto seemed untroubled on Saturday night.
Meanwhile, in the Eastern Regional Supercross Lites Class, Honda's Justin Barcia secured his second-consecutive title with a fourth-place finish, while Kawasaki's Darryn Durham raced to the first victory of his career.
Villopoto was the first rider out of the gate in the 20-lap Supercross Class main event, grabbing the holeshot award with fellow Kawasaki riders Nick Wey and Jake Weimer close behind. It didn't take long for Villopoto to open a gap on the field, ultimately taking a wire-to-wire win.
"The track was tough, so the bike was a big key," said Villopoto, who is in the midst of a four-race winning streak.
"The track was breaking down and it had a lot of ruts, so it was easy to get caught off guard. You had to stay on toes and try to log consistent laps. I'm looking forward to returning home next week (in Seattle)."
All eyes were on the battle for the remaining spots on the podium, as both Grant and Suzuki's Mike Alessi were both in search of their first top-three efforts of the season.
Grant set a strong pace in second after a good start, keeping a consistent gap over third. Alessi, however, wasn't as fortunate, making contact with a lapped rider while running third on Lap 16, falling to the ground. That allowed Brayton to grab the final spot on the podium.
Grant's runner-up effort was his best finish since winning the opening race of the 2009 Monster Energy Supercross season and also signified the inaugural podium finish for the first-year Jeff Ward Kawasaki Racing team.
As the gates dropped on the Eastern Regional Supercross Lites Class main event, Honda's Alex Martin captured the holeshot award, with Barcia and Durham in tow. Prior to the conclusion of the opening lap, Durham made his way into second and proceeded to make what would be the winning pass on lap two over Martin.
KTM's Malcolm Stewart worked his way into second following a strong start and set his sights on Durham. Behind him, Barcia took advantage of his healthy points lead and settled into podium position, needing only to finish fourth or better.
On lap six, Stewart crashed out of second, allowing a three-way battle for the position to ensue between Barcia, KTM's Ken Roczen and Kawasaki's Blake Baggett. Baggett prevailed in this battle and after Durham bobbled heading into a triple jump on Lap 9, it became a duel between the team-mates.
Baggett moved inside Durham several times in an attempt to make a pass during the closing laps but wasn't able to secure the position and settled for second. It marked the first win of the season for Monster Energy/Pro Circuit/Kawasaki in the Eastern Regional Supercross Lites Class, capped off by a 1-2 effort.
"This is at the top of the list (of accomplishments)," said Durham. "I'm speechless. It was a great race and I couldn't have done it without my team. I'm super excited, but just don't know what to say. I had a rough practice and heat race, but got great start. I think I led all the laps, but I don't even know."
Barcia settled into fourth, his first finish off the podium this season, to guarantee back-to-back championships, while his team-mate Justin Bogle made a late charge to the front to tie his career-best finish in third.
"Tonight is mind blowing," said Barcia, who has compiled a 1.4 finishing average in eight races this season.
"To win two championships feels amazing. It was a tough season at times, but it took a lot of hard work and dedication to get here. I couldn't have done it without everyone on my team. This is an awesome feeling."
Monster Energy Supercross continues next weekend, hosting the 15th race of the 2012 season from Seattle's CenturyLink Field.
Supercross Class Results: New Orleans
1. Ryan Villopoto, Poulsbo, Wash., Kawasaki
2. Josh Grant, Corona, Calif., Kawasaki
3. Justin Brayton, Murrieta, Calif., Honda
4. Brett Metcalfe, Lake Elsinore, Calif., Suzuki
5. Andrew Short, Smithville, Texas, Honda
6. Davi Millsaps, Murrieta, Calif., Yamaha
7. Weston Peick, Wildomar, Calif., Yamaha
8. Kyle Chisholm, Valrico, Fla., Kawasaki
9. Wil Hahn, Decatur, Texas, Honda
10. Broc Tickle, Holly, Mich., Kawasaki
Supercross Class Season Standings
1. Ryan Villopoto, Poulsbo, Wash., Kawasaki – 321
2. Davi Millsaps, Murrieta, Calif., Yamaha – 206
3. Justin Brayton, Murrieta, Calif., Honda – 201
4. Ryan Dungey, Belle Plaine, Minn., KTM – 192
5. James Stewart, Haines City, Fla., Yamaha – 178
6.Brett Metcalfe, Lake Elsinore, Calif., Suzuki – 172
7. Jake Weimer, Rupert, Idaho, Kawasaki – 171
8. Kevin Windham, Centreville, Miss., Honda – 166
9. Mike Alessi, Hilliard, Fla., Suzuki – 162
10. Broc Tickle, Holly, Mich., Kawasaki – 133
Eastern Regional Supercross Lites Class Results: New Orleans
1. Darryn Durham, Butler, Pa., Kawasaki
2. Blake Baggett, Grand Terrace, Calif., Kawasaki
3. Justin Bogle, Cushing, Okla., Honda
4. Justin Barcia, Ochlocknee, Ga., Honda
5. Ken Roczen, Murrieta, Calif., KTM
6. Kyle Cunningham, Aledo, Texas, Yamaha
7. Jake Canada, Sun City, Calif., Honda
8. Tyler Bowers, Danville, Ky., Kawasaki
9. Austin Politelli, Sun City, Calif., Honda
10. Philip Nicoletti, Cochecton, N.Y., Honda
Eastern Regional Supercross Lites Class Season Standings
1. Justin Barcia, Ochlocknee, Ga., Honda – 185
2. Darryn Durham, Butler, Pa., Kawasaki – 143
3. Ken Roczen, Murrieta, Calif., KTM – 143
4. Blake Wharton, Pilot Point, Texas, Suzuki – 142
5. Blake Baggett, Grand Terrace, Calif., Kawasaki – 128
6. Jake Canada, Sun City, Calif., Honda – 118
7. Justin Bogle, Cushing, Okla., Honda – 107
8. Kyle Cunningham, Aledo, Texas, Yamaha – 70
9. Alex Martin, Millville, Minn., Honda – 67
10. Matthew Lemoine, Collinsville, Texas, Kawasaki – 66