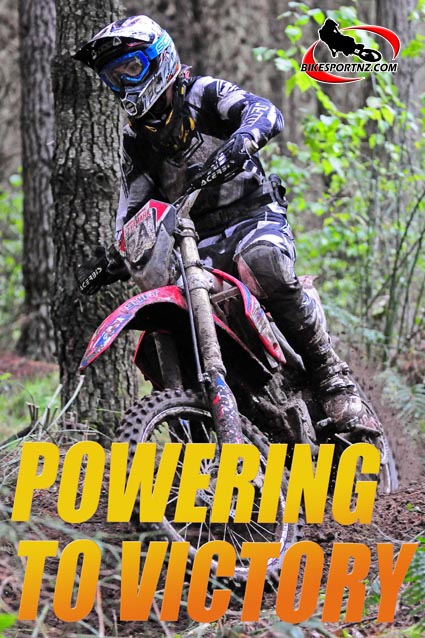 The third round of five in this season's New Zealand Enduro Championships are in the bag now after racing near Whangamata on Saturday, and it was a third different winner who emerged.
Auckland's Karl Power made a triumphant return to the race track on Saturday, shaking off recent injury concerns to lock down the top spot on the slick and slippery Coromandel Peninsula course.
Power finished the day one minute 24 seconds ahead of fellow Aucklander Mike Davis, with Mokau's Adrian Smith, Auckland's Callan May and another Aucklander, Mike Skinner, rounding out the top five overall.
"I have been off a bike for three months now, thanks to me breaking my wrist at the Maramarua Three-Day Enduro in December, but I'm definitely back now," said Power.
"The win has given me confidence."
It has been a mixed bag of results in the Yamaha-sponsored series thus far.
Wellington's Rory Mead won the day at round one near Kawhia in February, while Palmerston North's Adam Reeves and Auckland's Chris Power shared second spot. Whangamata's Jason Davis was the stand-out rider at round two of the series in Northland last month.
With Mead unable to push ahead with his title defence, while he instead races overseas, and Davis sidelined with illness, it was always going to be a fresh face on the top step of the podium at the weekend.
New Zealand cross-country champion Adam Reeves, of Palmerston North, finished eighth overall on Saturday but that was good enough to elevate him to the top of the series standings, now level on points with Hokianga's Mitchell Nield, who placed ninth on Saturday.
With his missing the opening two rounds, Power has realistically no chance of winning the national crown this season, but he will certainly be pushing for wins at the rounds that remain.
The fourth round of the series is set for Waimiha on May 5, with the fifth and final due in Taupo on July 21.
© Words and photo by Andy McGechan, www.BikesportNZ.com