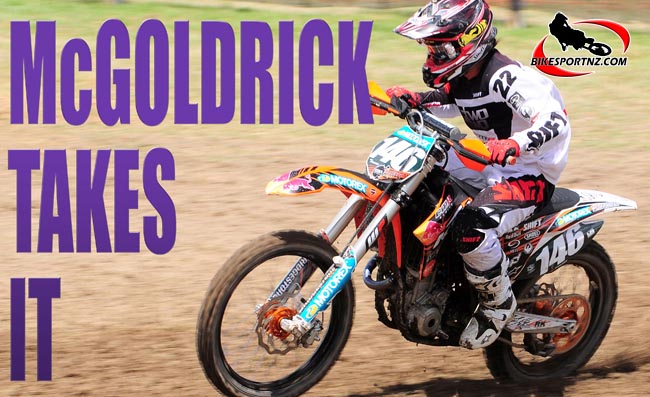 It was two national motocross titles in the same season for South Islander Micah McGoldrick at the weekend.
The rider from Amberley was the top rider at the three-day Backflips Clothing-sponsored New Zealand Junior Motocross Championships, racing his way to six wins from six starts in the 14-16 years' 250cc class.
McGoldrick was hot favourite to win this class, having dominated the small bike class at the just-completed senior nationals, which wrapped up in Taupo last month, a dispensation given to young riders wanting to tackle the seniors if riding a 125cc bike.
So, in a quirk of the rules and the calendar, the 16-year-old McGoldrick was able to win two national motocross titles in the same season.
McGoldrick won both the 125cc and under-21 years' titles at the senior nationals before slipping back into the junior (under-17) ranks to wrap up the 250cc title there on Sunday, actually making it three major crowns in the same season.
"It's the end of an era for me. I will be permanently in the senior ranks from now on. I guess it's all uphill for me from here on," he laughed.
McGoldrick won ahead of Auckland's Brandon Tipene and Timaru's Josh May.
The racing was much tighter in the other classes with Atiamuri's Hadleigh Knight winning the 15-16 years' 125cc class by just 17 points from Auckland's Chase Smith, with Silverdale's Aiden Kiff taking the third step on the podium.
Levin's Billy Frank won the 12-14 years' 125cc class, finishing ahead of Taupo's Cohen Chase and Temuka's Harrison Sayer.
Rangiora's Dylan Walsh won the 13-16 years' 85cc/150cc class from Dunedin's Sam Cuthbertson and Tauranga's Cameron Forlong.
In the 11-12 years' 85cc class, Silverdale's Claude Griffith found himself in an Australian sandwich, finishing behind eventual winner Hunter Lawrence, of Queensland, but ahead of New South Welshman Blake Cobbin.
Tuakau's Jesse Te Kani won the 8-10 years' section, ahead of another Australian, New South Welshman Tyler Darby and Dunedin's Grayson Veitch.
© Words and photo by Andy McGechan, www.BikesportNZ.com
Full story and more photos in your next issue of KIWI RIDER magazine.
RESULTS:
14-16 years, 250cc class:
15-16 years, 125cc class:
12-14 years, 125cc class: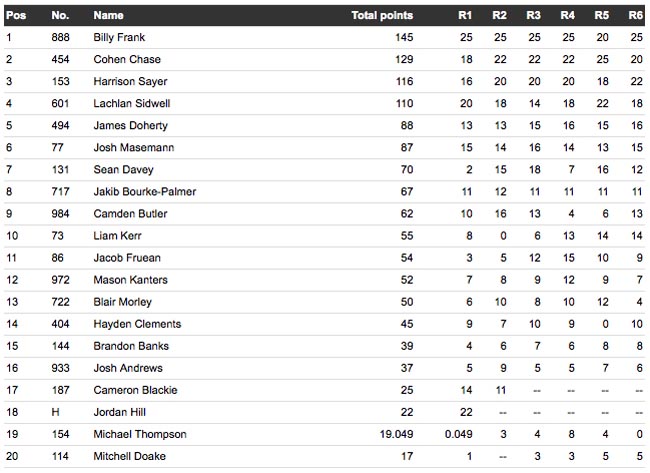 13-16 years, 85cc/150cc class:
11-12 years, 85cc/150cc class:
8-10 years, 85cc/150cc class: