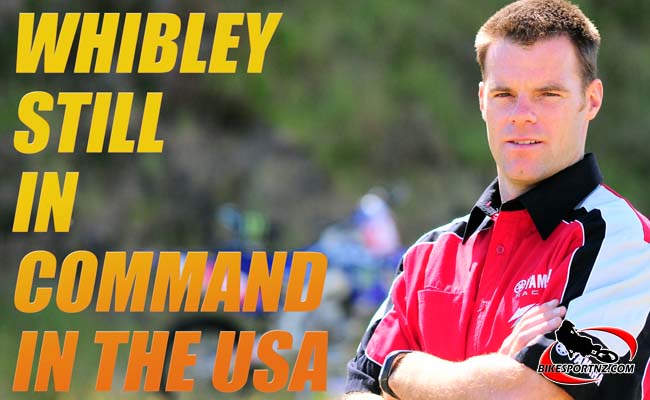 A third-place finish at round two of the Grand National Cross-country Championships in the United States at the weekend was enough to keep Kiwi Paul Whibley on top of the series standings, but only just.
Yamaha's Whibley won the series opener in Florida a week ago and managed third at round two in Washington on Sunday, finishing behind factory KTM team-mates Kailub Russell and Charlie Mullins, and the New Zealander keeps his lead, albeit now just one point ahead of defending champion Mullins.
Another New Zealander, Wellington's Rory Mead, finished eighth on Sunday. Coupled with his third-placing at round one, Yamaha's New Zealand enduro champion Mead is now fourth equal in the championship rankings.
Russell's win was an impressive effort considering just five days earlier, at the opening round of the series, the young gun sat out the last hour of the gruelling three-hour race after crashing and injuring his shoulder.
Russell made it clear from the early stages of the race that he was determined to make a statement in the woods at round two running within the lead pack all day and used his impressive sprint speed to put a small gap on Mullins and Whibley.
Mullins put in another solid ride for second place, demonstrating the poise and consistency that earned him the 2011 XC1 title.
Russell finished out the final two laps with his two fastest times of the day, showing determination and heart to fend off GNCC veterans Mullins and Whibley and an entire field of stacked riders behind.
"I felt like I had a little more at the end of the race and I knew I could go faster, so I got around Charlie and laid down a couple fast laps," said Russell after taking his second career XC1 win.
"I'm focused, I'm driven, I've done the training and I just need to position myself in the race like I did today and I'm going to try to do that the rest of the season."
Mullins was able to recover from a big crash on lap two that left his bike with some fork damage, and eventually come home in second place after leading for a few laps.
"I had a pretty bad crash there on the second lap and I ended up breaking my forks, so my bike was kind of off. The crash was pretty gnarly but I was able to get back recover and even lead a few laps and Kailub got around me and dropped the hammer the last few laps," Mullins said.
Whibley crossed the line just seven seconds behind Mullins for third place, which gives the kiwi a scant one-point lead in the early championship standings and an opportunity to sport the white number plate background at round three.
"Everyone seemed to have some good lines today and we all mixed it up, it was a good day," Whibley said. "The last couple laps Kailub was on fire and Charlie and I pushed each other pretty well. I got caught in some lappers at the end there but I'm really happy with third today."
Honda's Nate Kanney also bounced back from a llacklustre finish in Florida, putting in a solid ride for the fourth place position and outdueling Honda's Thad DuVall late in the race. DuVall has put in consistent rides so far this season, giving him the third spot in the points standings after two rounds of racing.
Round three of the 2012 Can-Am Grand National Cross Country Series heads to Morganton, North Carolina, March 31 and April 1 for The FMF Steele Creek GNCC.
XC1 Pro Results:
1. Kailub Russell (KTM)
2. Charlie Mullins (KTM)
3. Paul Whibley (YAM)
4. Nathan Kanney (HON)
5. Thad DuVall (HON)
6. Cory Buttrick (KTM)
7. Garrett Edmisten (KAW)
8. Rory Mead (KTM)
9. Chris Bach (BET)
10. Takeshi Koikeda (KTM)
XC2 Pro Lites Results:
1. Steward Baylor Jr. (KTM)
2. Jason Thomas (HSQ)
3. Glenn Kearney (HSQ)
4. Jesse Robinson (HSB)
5. Jedediah Haines (YAM)
6. Dustin Gibson (KTM)
7. Brad Bakken (YAM)
8. Cole Kirkpatrick (KTM)
9. Cody Gragg (YAM)
10. Ricky Mair (KTM)
XC1 Pro Standings:
1. Paul Whibley (51) (1/win)
2. Charlie Mullins (50)
3. Kailub Russell (39) (1/win)
4. Thad DuVall (34)
5. Rory Mead (34)
6. Cory Buttrick (29)
7. Chris Bach (28)
8. Garrett Edmisten (25)
9. Jordan Ashburn (24)
10. Nathan Kanney (24)
XC2 Pro Lites Standings:
1. Steward Baylor Jr. (60) (2/wins)
2. Jason Thomas (43)
3. Jesse Robinson (43)
4. Glenn Kearney (42)
5. Jedediah Haines (31)