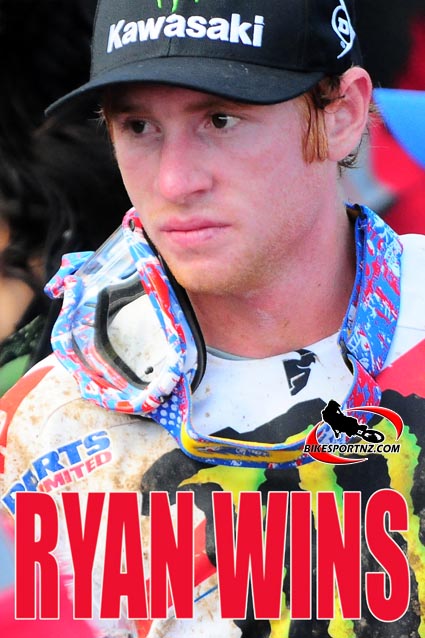 Kawasaki's Ryan Villopoto won his sixth Monster Energy AMA Supercross race in Indianapolis on Saturday night, the 11th round of 17 in the series.
This pushed Villopoto out to 54 points ahead of his nearest challenger for the open class, KTM's Ryan Dungey, who was a non-starter, sidelined with injury.
Meanwhile, Suzuki's Blake Wharton won his first Eastern Regional Supercross Lites Class main race.
Suzuki's Mike Alessi grabbed the holeshot to open the Supercross Class main race with Honda's Justin Brayton and KTM's Marvin Musquin following in second and third, respectively.
A small mistake by Alessi on lap five allowed Brayton to make a pass into the lead. On lap 10, Villopoto, who waited methodically, worked his way through the pack, passed Suzuki's Brett Metcalfe for second place. Five laps later, Villopoto passed Brayton for the lead and rode to victory. Brayton finished second and, for the second consecutive weekend, Yamaha's Davi Millsaps finished on the podium with a third-place finish.
"This was by far the hardest track of the season," said Villopoto. "It was slick out there, and I had to be on my game. It was tough to make passes on this track."
KTM's Ken Roczen led the field through turn one in the Eastern Regional Supercross Lites Class main event, winning the holeshot, with Kawasaki's Blake Baggett following in second. Baggett quickly passed Roczen, but Roczen answered back as he passed him near the end of the opening lap.
On lap five the race was red flagged due to a crash by Yamaha's Kyle Cunningham. The race was restarted in a staggered format with Roczen, Baggett and Wharton in the top three positions, respectively. Current points leader Justin Barcia (Honda) restarted in eighth place.
After the restart, Wharton charged his way around Baggett and assumed the number-two position, and on the same lap Kawasaki's Darryn Durham moved into third place. While leading, Roczen crashed and suffered a mechanical problem that forced him to re-enter the race in last place.
As a result, Wharton assumed the lead and Durham took over second place. Wharton rode to the second win of his career and Durham finished in second place for the second time this season. Barcia rounded out the podium with a third.
"I am lucky to finish where I did tonight," said Barcia. "It was so slick out there tonight and tough to get through the corners. It just wasn't our night tonight, but we will be back."
"I am very thankful to everyone that got me here," said Wharton. "It was a strange start after the red flag, but it was great for me. I didn't look up until I saw the white flag, and once I saw it, I knew I had to ride smart for one more lap."
Supercross Class Results: Indianapolis
1. Ryan Villopoto, Poulsbo, Wash., Kawasaki
2. Justin Brayton, Murrieta, Calif., Honda
3. Davi Millsaps, Murrieta, Calif., Yamaha
4. Brett Metcalfe, Lake Elsinore, Calif., Suzuki
5. Cole Seeley, Murrieta, Calif., Honda
6. Mike Alessi, Victorville, Calif., Suzuki
7. Marvin Musquin, Murrieta, Calif., KTM
8. Broc Tickle, Holly, Mich., Kawasaki
9. Weston Peick, Wildomar, Calif., Kawasaki
10. Nico Izzi, Murrieta, Calif., Yamaha
Supercross Class Season Standings
1. Ryan Villopoto, Poulsbo, Wash., Kawasaki – 246
2. Ryan Dungey, Belle Plaine, Minn., KTM – 192
3. James Stewart, Haines City, Fla., Yamaha – 177
4. Davi Millsaps, Murrieta, Calif., Yamaha – 151
5. Kevin Windham, Centreville, Miss., Honda – 146
6. Justin Brayton, Murrieta, Calif., Honda – 143
7. Brett Metcalfe, Lake Elsinore, Calif., Suzuki – 142
8. Jake Weimer, Rupert, Idaho, Kawasaki – 134
9. Chad Reed, Dade City, Fla., Honda – 128
10. Mike Alessi, Hilliard, Calif., Suzuki – 128
Eastern Regional Supercross Lites Class Results: Indianapolis
1. Blake Wharton, Pilot Point, Texas, Suzuki
2. Darryn Durham, Butler, Pa., Kawasaki
3. Justin Barcia, Ochlocknee, Ga., Honda
4. Blake Baggett, Grand Terrace, Calif., Kawasaki
5. Jake Canada, Sun City, Calif., Honda
6. Justin Bogle, Cushing, Okla., Honda
7. Matthew Lemoine, Collinsville, Texas, Kawasaki
8. Tyler Bowers, Danville, Ken., Kawasaki
9. Les Smith, York, SC., KTM
10. Shawn Rife, Mechanicsburg, Ohio., Honda
Eastern Regional Supercross Lites Class Season Standings
1. Justin Barcia, Ochlocknee, Ga., Honda – 120
2. Darryn Dunham, Butler, Pa., Kawasaki – 98
3. Blake Wharton, Pilot Point, Texas, Suzuki – 97
4. Blake Baggett, Grand Terrace, Calif., Kawasaki – 80
5. Ken Roczen, Murrieta, Ga., KTM – 80
6. Jake Canada, Sun City, Calif., Suzuki – 72
7. Justin Bogle, Cushing, Okla., Honda – 61
8. Kyle Cunningham, Aledo, Texas, Yamaha – 43
9. Malcolm Stewart, Haines City, Fla., KTM – 42
10. PJ Larsen, Murrieta, Calif., KTM – 38