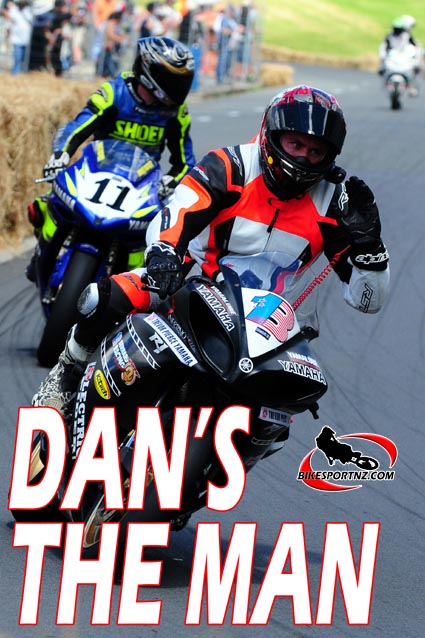 It is State Highway 2 for 364 days of the year but, for one very significant 12-hour period, it is a race track.
This refers to the main street of the tiny Thames Valley town of Paeroa, where a huge team of volunteer workers position straw bales and orange and white plastic barriers to turn the main shopping centre into a battleground for bike racers.
And, once again road code was again thrown out the window for one day, and that day was Sunday, February 19.
Hundreds of motorcyclists flooded into Paeroa, at the foot of the Coromandel Peninsula, with the sole intention of flouting the nation's road laws, racing at speeds of more than 270kmph down Paeroa's main street, ignoring stop signals, failing to give way and swerving across the centre lines at every opportunity.
And, though the main speeding offender has been named – Australian visitor Dan Stauffer, on a Yamaha R1 – police turned a blind eye, as they have done for the past 20 years, when the famous Battle of the Streets event is run at Paeroa.
Thousands of spectators enjoyed the sporting occasion under a typically blazing sky for this year's Mobil 1-sponsored event, one that ran like clockwork from the 7.30am riders' briefing, right through the packed race programme that started at 11.30am, to the finish at about 5pm.
But few had an answer for the sheer brilliance of Stauffer, the same man who had won the event as a first-timer at the event last season.
It probably came as no surprise to anyone, because he had for the second consecutive time earlier this season, also won the country's other big annual street race, the Cemetery Circuit event at Whanganui on Boxing Day.
"It's been a perfect weekend really," said the 35-year-old from the Gold Coast.
"Three races and three wins. I couldn't have asked for anything more," said the Bernard Racing Yamaha Team rider.
Stauffer won both the formula one races, finishing the day ahead of Christchurch rider Ryan Hampton (Honda) and Hawera's Hayden Fitzgerald (Honda), with out-of-retirement Tony Rees (Yamaha), of Whakatane, finishing fourth overall.
Stauffer also won the 10-lap King of the Streets feature race, this time finishing ahead of a hard-charging Rees, the 44-year-old Bay of Plenty rider taking his 2005-model Yamaha – the same bike he last won a national title on seven years earlier – through the field and snatch runner-up spot just two laps from the finish.
"I really just came here to make up the numbers," said Rees. "The numbers I helped make up for Yamaha were a 1-2 finish. I didn't expect to go this well. It was a bit of a see-saw battle out there today. There was nothing left of the tyres at the end of the King of the Streets feature race … they were shredded."
But Stauffer was the stand-out individual at Paeroa on Sunday.
"This was harder work than (racing at) Whanganui. The tyres got very hot in these conditions and the bike was getting a bit twitchy," said the Queenslander. "Ryan (Hampton) and Tony (Rees) were going very well and they certainly kept me honest."
Other winners on the day were Auckland's Karl Morgan (Suzuki, formula two), Taupo's Scott Moir (Honda) and Palmerston North's Glen Williams (Suzuki) (joint winners of formula three), Moir (Aprilia, super motard), Williams (Bimota, post classics, pre-89), Paraparaumu's Sean Donnelly (Moto Guzzi, post classics, pre '82), Katikati's Rhys Holmes (BMW, Bears, non-Japanese bikes), Wanganui pair Adam Unsworth and Stu Dawe (Windle, sidecars) and Te Puke pair John  Blaymires and Charles Bilby (Moto Guzzi, post classic sidecars).
© Words and photo by Andy McGechan, www.BikesportNZ.com
Full story and more photos in your next issue of KIWI RIDER magazine.