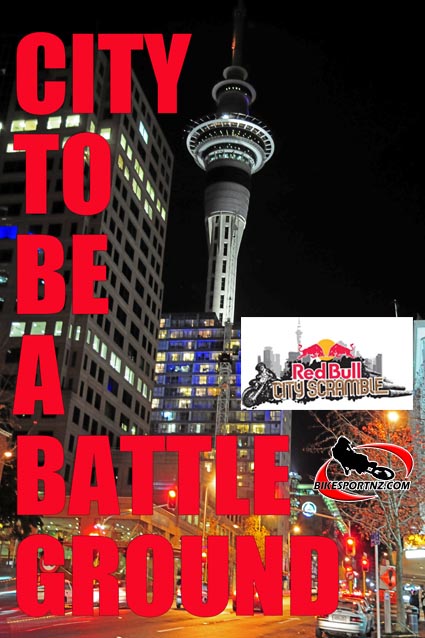 The Red Bull City Scramble – the toughest enduro-cross race in the world – returns to downtown Auckland this April.
On April 1, 2012, T Pier, Westhaven Drive, Auckland will come alive to the sound of 100 Enduro bikes with the world's best riders competing for City Scramble glory.
Carrying on from the phenomenal success of the 2009 event, Red Bull City Scramble returns to the Auckland waterfront and is set to captivate the nation.
The purpose-built 500m long course will challenge riders to the highest level of their ability with unique rock, log, water, concrete and dirt features. This is a race that will take Enduro riding to the next level.
The international field will push local riders hard, testing their abilities and turning on a spectacle for the 15,000 strong crowd that will line the course. The crowd cheers will be loud as each rider battles their way through the toughest enduro obstacles man can replicate.
Course designer and NZ Enduro hero Chris Birch returns from his South African base to compete, coming up with more ingenious and challenging obstacles in 2012. The new course weaves its way through the unique T Pier location, onto a moored water based obstacle, before leaping back on to hard ground and the finish line.
When the dust, dirt, and water settles, only one rider will be crowned the champion of Red Bull City Scramble. To find out who, make sure you are at T Pier, Westhaven Drive, Downtown Auckland on Sunday April 1.
Race action starts on the day at 10am. This is a free event for spectators with toilets, food and beverage on site.
Visit www.redbull.co.nz/cityscramble for more event info.
Photos by Andy McGechan, www.BikesportNZ.com