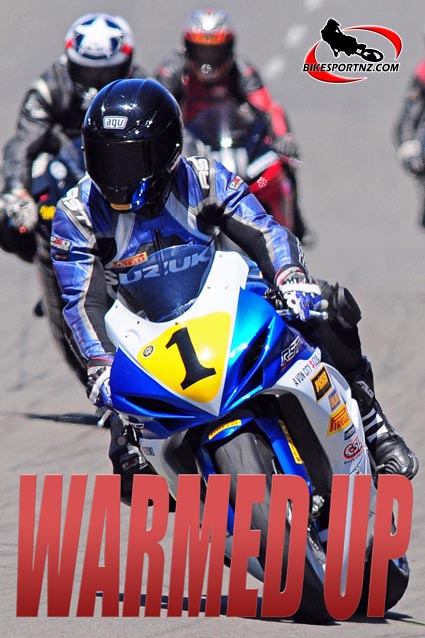 It was a hat-trick of hat-tricks for Christchurch's Dennis Charlett this week.
On Monday the motorcycle ace became only the second person to claim the Port Nelson Street Races' King of the Port title three times.
Not only did he make it three wins in a row, but it was also the third time in a row he has broken the lap record and also the third time he has been the fastest rider down the main straight – and there's not a long stretch of tarseal on which to achieve that on the tight 1.5 kilometre circuit.
The three-peat was previously achieved by another former Nelson rider, Daniel Jansen, in 2001 and twice in 2002.
Racing his 2011-model Suzuki GSXR600, Canterbury's Charlett, who grew up in the Nelson region, cleaned up both the Formula 1 and Formula 2 categories, before claiming victory in the final King of the Port race, which featured the top riders from all of the classes.
The 43-year-old Charlett, the South Island regional manager for an industrial gases company, said he was "actually taking it easy", despite the remarkable pace he set.
"It's the only time my 87-year-old nana gets to see me race and she's there with her walking frame, cheering me on. She gets pretty excited. But I don't go too hard at Nelson because it's just a fun event really, just part of my build-up for the New Zealand Superbike Championships."
Charlett is the defending national champion in the 600cc supersport class, a title he aims to claim again with the five-round 2012 series set to kick off on his hometown Christchurch tract, Ruapuna Park, this weekend.
"I didn't want to do anything silly at the Nelson races because winning the national supersport title is very important to me.
"My preparation has gone well and I'm about where I need to be at the moment. I've lost about 8 kilograms, so I'm down to 60kg now and that's good."
Charlett knows he will have his work cut out to fend off challenges this weekend from high-powered riders such as Wellington's Glen Skachill (Suzuki), Auckland's Jaden Hassan (Yamaha), Auckland's Karl Morgan (Suzuki), Taupo's Travis Merkel (Honda), Timaru's Johnny Small (Suzuki), Orewa's Avalon Biddle (Honda), Invercargill's Jeremy Holmes (Honda), Rangiora's Jake Lewis (Yamaha) and fellow Christchurch riders John Ross (Suzuki), Cam Jones (Suzuki) and Alastair Hoogenboezem (Suzuki), to name just a few.
Monday's event was the 20th running of the Port Nelson Street Race, with Charlett winning the Alastair Marer Memorial Trophy, a replica of the first trophy that was presented to the legendary Robert Holden at the first-ever port races.
Just as happened in last year's 10-lap King of the Port feature race, Charlett was tested early on by Dan McKenzie, until he eventually opened up a sizeable gap on the rest of the field.
Along with the Suzuki Tri-Series, which included the Boxing Day races in Whanganui, it was the perfect preparation for his 600cc supersport title defence.
Motueka motocross hero Josh Coppins dominated the supermoto classes, taking both the S1 and S2 grades on his Yamaha YF450F.
Other winners on the Nelson track were Bruce Verdon (Manx Norton 500) in classics, Bernard Ryan (Moto Guzzi Le Mans) in post-classics, Jock Woodley (Suzuki RGV250) in formula 1 and Brett Gray (Triumph Daytona 675) in the BEARS (non-Japanese bikes) class.
© Words and photo by Andy McGechan, www.BikesportNZ.com