National supercross championship points leader Cody Cooper may not have it all his own way at round two tomorrow.
The Bay of Plenty Suzuki rider emerged from the opening round of the 2012 series near Timaru last weekend with a narrow three-point advantage in the open class over last year's runner-up, Christchurch Honda rider Justin McDonald, but it won't just be McDonald who Cooper should fear at round two near Motueka this Sunday afternoon.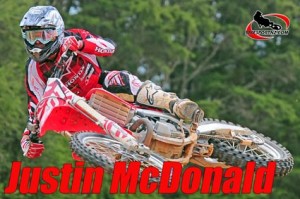 Defending national supercross champion Josh Coppins was a surprise no-show at the opening round of the 2012 series near Timaru last weekend but he'll definitely be in action at round two near his home town this weekend.
"I am still coming back from injury and I simply wasn't ready to race supercross last weekend," said the 34-year-old Coppins, the lead rider for the MXDK Rockstar Yamaha team (pictured above).
"I've been practising on my own supercross track this week and I feel I'm ready to go now.
"I'm about four months behind where I want to be but I'll do okay on Sunday.
"I just really need to get more time on the bike. I actually don't expect to be firing at 100% until about the time of the Woodville Motocross in a couple of weeks' time (on January 29)."
And, with Cooper (Moto City Suzuki RM-Z450) watching over his shoulder for Coppins this weekend, it could just as easily be McDonald (Timaru Honda CRF450) who takes the advantage and fires through on the blindside.
McDonald won the national MX1 motocross title in 2009 and finished runner-up in the supercross nationals last season – it could again be his time to take the limelight.
The action is sure to be hot in the other classes too, with the respective points leaders – Queenstown's Scott Columb (Suzuki, senior lites), Timaru's Josh May (Honda, junior 250) and Hamilton's Josiah Natzke (Yamaha, junior lites) – also expecting tough challenges from their rivals
Yamaha's Natzke won the junior lites class last year and, while his title defence seems well on target this season, he is also tackling the junior 250 class, riding a Yamaha YZ125 bored out to 144cc.
Natzke is currently third overall in the bigger bike class, behind May and Wellington's Josh Bartosh (Honda).
Whatever transpires, it's sure to be a frantic afternoon of racing at Motueka's Rat Track.
The third and final round of the series is set for Taupo on January 14.
© Words and photos by Andy McGechan, www.BikesportNZ.com