The weather was blistering and so was the action at Christchurch's Ruapuna Park on Sunday as the New Zealand Superbike Championships kicked off with a summer scorcher.
When the high-octane motorcycle engines were finally shut off late on Sunday afternoon it was home town hero Dennis Charlett (pictured above) who stood proudest in the pits, the 43-year-old father-of-four and grandfather-of-one emerging as joint points leader in the 600cc supersports class and also as the winner of the New Zealand 600cc Grand Prix title.
Charlett seems on the right track to successfully defend his 2011 600cc supersports title – thanks to his solid 2-1 results in his two races on Sunday – although he'll have to be at his best over the four rounds that follow as fellow Canterbury man John Ross, on an identical Suzuki GSX-R600 bike, actually shares his points lead.
Ross finished 1-2 in the 600cc supersport class on Sunday.
Both Charlett and Ross therefore finished the day with identical points, Charlett earning the psychological advantage only, given the nod as the day's overall winner on the count-back rule, Charlett beating Ross to the chequered flag in the all-important second 600cc race.
The final run to the flag in that second race was the stuff of legends, Charlett actually trailing Ross by more than a bike length as the Suzuki pair entered the final straight for the last time.
"I just went into that last corner very deep and very hard and got some amazing drive out of the last corner," said Charlett, who slingshot past Ross right on the line.
Ross was stunned.
"I knew he would be coming hard. I thought I had him but then saw a flash beside me on the line and he had snatched the win from me," said the 30-year-old Ross.
The premier superbike class was something of a lottery with two races in that class becoming three as a succession of crashes forced the organisers to have two bites at race two.
Race one was a start-to-finish win for Australian three-time former New Zealand superbike champion Robbie Bugden (riding for the Christchurch-based Triple R Suzuki team), with another Australian, Dan Stauffer (Bernard Racing Yamaha R1), finishing second and dual-class rider Ross (BMW) taking third spot.
Defending superbike champion Andrew Stroud (David Reid Homes Waikato Suzuki GSX-R1000), of Hamilton, was forced to settle for fourth place as he battled to find power with contaminated fuel starving his bike's engine.
Race two had to be run in two stanzas after two riders crashed just three laps into it, leaving debris strewn across the track.
Bugden had been leading the way at that point and a reinvigorated Stroud was nowhere to be seen, as he had earlier crashed out while challenging Bugden for the lead.
However, with race two having a second stage, Stroud was able to rejoin the party, although rules dictated the 43-year-old and his hastily-repaired machine would have to start off the back of the grid.
In an amazing display of raw speed and courage, Stroud rocketed through from last place on the grid to snatch the lead on the opening lap.
Stroud came under pressure from Stauffer but held on for the win while it was Bugden's turn for disaster, his bike failing to last the distance as his engine overheated.
The race was marred by controversy, however, as Stroud was later disqualified because it was deemed Stroud had not completed enough laps in the abandoned first part of the second race and therefore should not have been allowed to start the second part.
When the final calculations were done, it was Stauffer who won the day outright and also took the GP crown for the superbike class, although it's still early days and round two of the series at Timaru's Levels Raceway next weekend may give a truer indication of where the superbike title ends up.
Winner of GP titles in other classes included 15-year-old Malaysian Hafik Azmi in the 125cc category, Jake Lewis from Christchurch in 600cc Superstock, Jason Easton from Foxton in Superlite, Bryan Hill from Ashburton in 650 Pro Twin, and Sam Croft from Paraparaumu in Prolite.
After Timaru, the championship heads to Teretonga Park, Invercargill, on January 22, then heads north to Hampton Downs, near Huntly, on March 18 and, finally, wraps up at Taupo on March 25.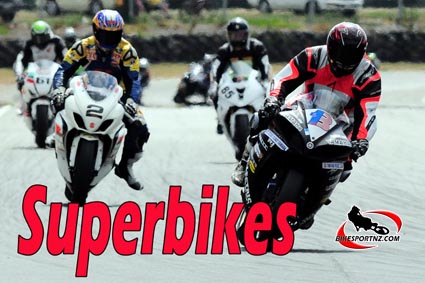 RESULTS:
RESULTS FROM ROUND ONE:
New Zealand Grand Prix meeting, Powerbuilt Raceway, Ruapuna, Christchurch.
Superbikes – Race one: Robbie Bugden (Australia) Suzuki 1; Dan Stauffer (Australia) Yamaha 2; John Ross (Christchurch) BMW 3; Andrew Stroud (Hamilton) Suzuki 4; Sloan Frost (Wellington) BMW 5. Race two, NZ Grand Prix: Part one: Bugden 1; Stauffer 2; Craig Shirriffs (Feilding) Suzuk 3; James Smith (Christchurch) Suzuki 4; Ross 5. Part two: Stroud 1; Stauffer 2; Shirriffs 3; Smith 4; Ray Clee (Kumeu) Suzuki 5. Overall: Stauffer .1; Shirriffs 2; Smith 3. NOTE: Stroud disqualified after race two, part two.
Championship points:
1. Stauffer 42.5;
2. Bugden 37.5;
3. Ross 26;
4. Clee 21.5;
5= Shirriffs and Ryan Hampton (Christchurch) Honda, both 18;
7. Fitzgerald (Hawera) Honda 16;
8. Smith 15.5;
9. Stroud 13;
10. Holmes (Katikati) BMW 11.5.
600cc Supersport – Race one: John Ross (Christchurch) Suzuki 1; Dennis Charlett (Christchurch) Suzuki 2. Jaden Hassan (Auckland) Yamaha 3; Glen Skachill (Wellington) Suzuki 4; Alastair Hoogenboezem (West Melton) Suzuki 5.
600cc Superstock – Race one: Jake Lewis (Christchurch) Yamaha 1; Rhys Holmes (Katikati) Yamaha 2; Daniel Ormsby (Christchurch) Yamaha 3.
600 Supersport – Race 2, NZGP: Charlett 1; Ross 2; Skachill 3; Alastair Hoogenboezem 4; James Hoogenboezem (West Melton) Suzuki 5.
600 Superstock – Race 2, NZGP: Lewis 1; Ormsby 2; R Holmes 3.
Points – 600 Supersport:
1= Charlett and Ross, both 45;
3. Skachill 29;
4. A Hoogenboezem 24;
5. J Hoogenboezem 21;
6. Jeremy Holmes (Invercargill) Honda 19;
7. Hassan 16;
8. Josh McGrath (Australia) Yamaha 15;
9= Avalon Biddle (Auckland) Honda and Ken Jones (Cambridge) Suzuki, both 13;
11. Tim McArthur 9;
12= Marcus Beagley (Auckland) Kawasaki and Karl Morgan (Australia) Suzuki, both 8.
600 Superstock points:
1. Lewis 50;
2. Ormsby 36;
3. R Holmes 30.
Superlite – Race one: Jason Easton (Foxton) Tigcraft-Aprilia 550, 1; Glen Williams (Palmerston North) Suzuki SVR650, 2; Neil Smith (Blenheim) Yamaha YZF-R450, 3. Race two: Easton 1; Williams 2; Smith 3. Race three, NZGP: Easton 1; Williams 2; Smith 3.
Points: Easton 75, 1;Williams 60, 2; Smith 48 3.
Pro Twins – Race one: Bryan Hill (Ashburton) Suzuki SV6540, 1; Antony Singer (Leeston) Suzuki SV650, 2; Robbie Stokes (Christchurch) Suzuki SV650, 3. Race two: Hill 1; Singer 2; Dean Bentley (Lower Hutt) Suzuki SV650) 3. Race three, NZGP: Hill 1; Bentley 2; Nick Southerwood (Auckland) Suzuki SV650, 3.
Points: Hill 75, 1; Singer 53, 2; Bentley 47, 3.
125cc GP – Race one: Hafiq Azmi (Malaysia) Honda 1; Troy Guenther (Austalia) Yamaha 2; Daniel Mettam (Auckland) Honda 3. Race two: Azmi 1; Mettam 2; Kyle Hammond (Lower Hutt) Honda 3. Race three, NZGP: Azmi 1; Tim McArthur (Dunedin) Honda 2; Mettam 3.
Points: Azmi 75, 1; Mettam 52, 2; Hammond 36, 3.
© Words and photos by Andy McGechan, www.BikesportNZ.com