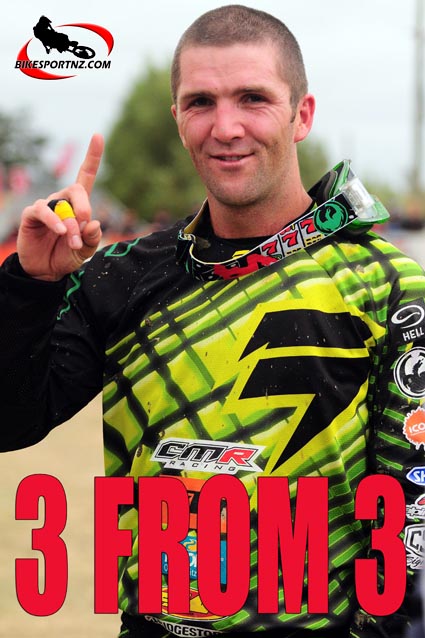 Wairarapa's Luke Burkhart and Canterbury's Micah McGoldrick have set the standard for motocross racing this season and it's very high indeed.
Masterton's Burkhart and Amberley's McGoldrick were in scintillating form at the 51st annual New Zealand Motocross Grand Prix at Woodville at the weekend and whether anybody will be able to match the two CMR Motorex KTM riders in the big races that now follow remains to be seen.
Both Burkhart and McGoldrick won their respective classes at the big annual Woodville extravaganza and with it sent very loud warnings to their national MX2 (250cc) and 125cc rivals respectively.
Indeed, they could be the men to beat when the New Zealand Motocross Championships kick off in South Canterbury in less than two weeks' time.
McGoldrick (KTM 250F) was outstanding in racing on Saturday, dominating the junior 14-16 years' 250cc class with a hat-trick of wins and also winning the Champion-of-Champions race that wound up the day, leading a KTM 1-2-3-4 by finishing that feature race ahead of fellow KTM riders Haki Waller (Rotorua), Hadleigh Knight (Atiamuri) and Billy Frank (Levin).
Earlier in the day, Knight (KTM 125) had been a standout in the 15-16 years' 125cc class, winning the honours there with 3-1-2 results, while Frank (KTM125) had wrapped up the 12-14 years' 125cc class with a string of three wins.
Meanwhile, Australian visitors Hunter Lawrence and Blake Cobbin joined with Nelson's Reece Walker to make it a KTM 1-2-3 in the 11-12 years' 85cc class.
The 8-10 years' 85cc class was won by Kaiwaka's Leroy Porteous (Suzuki) and dual-class Hamilton rider Josiah Natzke (Yamaha) won the junior 13-16 years' 85cc class, as well as finishing runner-up to Frank in the junior 12-14 years' 125cc category.
The following day, Burkhart celebrated a hat-trick of wins in the senior MX2 class, beating national MX2 champion Darryll King (MXDK Rockstar Yamaha), of Hamilton, and Queenstown international Scott Columb (Moto City Suzuki) to the top of the podium.
"I've only ridden the bike two times since I last raced (at Whakatane just after Christmas), so to come here and win is pretty encouraging. It's a good build-up for the nationals," said Burkhart.
"I think my performance today is a good warning to the other riders that I'm not here to muck around. I am very motivated for the nationals now."
Taupo's Ben Townley (Carlton Dry Honda) was the dominant force in the MX1 class and he, too, will be hard to beat when the nationals roll around.
© Words and photos by Andy McGechan, www.BikesportNZ.com