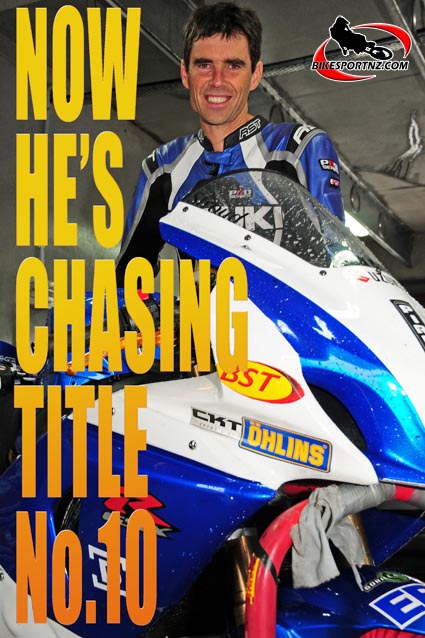 Oppose yellow at your peril.
That's probably the message being read by contestants lining up for this season's two separate Tri Series and national superbike championship competitions.
Not only will Waikato's Andrew Stroud (Suzuki GSX-R1000) return to defend both his superbike crowns – possibly making it four annual Suzuki Tri Series titles in succession as well as aiming to notch up a record 10th superbike title at the nationals – but he'll have a swarm of Suzuki "wing men" to fly the brand as well.
Indeed, Stroud's biggest concern will be keeping the likes of fellow Suzuki men Robbie Bugden, of Australia, Feilding's Craig Shirriffs and Christchurch's James Smith at bay. Of course, Stroud will also have to contend with men such as Tauranga's Sloan Frost (BMW), Hawera's Hayden Fitzgerald (Honda) and Hamilton's Nick Cole (Kawasaki).
"I have not done a great deal of riding lately, but the build-up has started now," said Stroud.
"Winning is always my aim … nothing has changed at all," said the 43-year-old Hamilton-based father-of-eight.
"I know Robbie has been riding a lot in Australia and he'll probably be my biggest threat but I know Craig, Sloan, Hayden and Nick will be fast too."
Manawatu maestro Shirriffs (Suzuki GSX-R1000) is certainly one rider who fancies his chances of beating Stroud.
"Anyone is beatable. If I didn't think I could win, I wouldn't waste money by going racing," said the 38-year-old air-conditioning installer.
"I'm on the same bike as last year, identical to Andrew's, and it's a bike that won all but one race in the superbike nationals last season. I know it's good and that's why I'm riding one."
Christchurch's Dennis Charlett (Suzuki GSX-R600) could also be expected to defend his 600 Supersport title this season, despite what he would regard as the unwelcome attentions of talented riders such as Christchurch's John Ross, also now on a 600cc Suzuki, Wellington's Glen Skachill (Suzuki), Taupo's Scott Moir (Honda), Inglewood's Midge Smart (Yamaha) or Auckland's Jaden Hassan (Yamaha).
Timaru's Johnny Small (Suzuki), who has just turned 20, revealed he won't defend his Pro Twins title as he instead steps up to race the 600 superstock class this season.
The potency of Suzuki extends all the way through the other various bike categories too, with Auckland's Karl Morgan, New Plymouth's Terry Fitzgerald, Palmerston North's Glen Williams and the Wanganui sidecar pair of Steve Bron/Dennis Simonsen all likely to continue their respective title bids.
The Suzuki Tri Series kicks off at Hampton Downs, near Meremere, in just over a weeks' time (on Saturday, December 10). The New Zealand Superbike Championships kick off at Ruapuna, Christchurch, on January 7-8.
© Words and photos by Andy McGechan, www.BikesportNZ.com