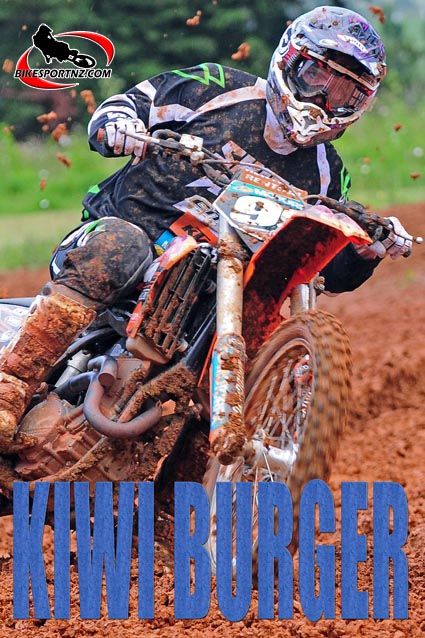 Wairarapa's Luke Burkhart has taken the first step on the path towards winning another New Zealand motocross crown.
The 27-year-old crayfisherman from Masterton was perhaps the fastest Kiwi on a 250cc motocross bike last season – he certainly won more races in the MX2 (250cc) class during the 2011 nationals than any other rider – but lack of consistency let him down and he finished the season ranked only fourth overall.
The CMR Red Bull KTM rider is back again for another crack at the nationals in 2012 and hoping to relive the glory of his last motocross title-winning ride – he won the 125cc crown in 2000 – and he made those intentions very clear indeed when he dominated the MX2 class at the Auckland Motocross Championships on Sunday.
With three wins from three starts, Burkhart sent an unambiguous message to his MX2 class rivals, particularly to defending champion Darryll King (MXDK Rockstar Yamaha), who had to settle for runner-up behind Burkhart in all three races at the Pukekohe circuit.
"This is my first race since the last nationals, so to win today is pretty pleasing," said Burkhart.
"I felt a bit rusty and have a few things to work on but I'm definitely in a better position than I was in at the same time last year. I hadn't prepared properly last season and that cost me. I feel very good right now though."
Also impressive in the jam-packed MX2 class were Tauranga's Peter Broxholme (Botany Honda), who finished third overall, Auckland's Blake Gillard, Warkworth's Hamish Dobbyn and Mount Maunganui's Rhys Carter.
Other riders to shine at the weekend included Rangiora's Micah McGoldrick, Matamata's Jacob Kneebone, Australian visitor Dakota Court, Rotorua's Cameron Vaughan, Drury's Sean O'Connor, Stillwater's Aiden Kiff, Tauranga's Logan Blackburn, Grafton's Eli Manson (who surprised everybody when he won the first National 125cc race of the day), Dairy Flats rider Henry Griffith, Kumeu's Chase Smith, Tauranga's Aaron Wiltshire, Hamilton's Josiah Natzke, Taupo's Cohen Chase, Tauranga's Cameron Forlong, Dairy Flats' Claude Griffith, Cambridge's Trent Liddle-Collins, Tuakau's Jesse Te Kani, Australian Tyler Darby, Taranaki's Zak Hetherington and Ngatea's Isaac Broad.
McGoldrick was unbeaten in the junior 14-16 years' 250cc class on Saturday and then managed 14th overall in the senior MX2 class the following day.
"I dominated the junior races on Saturday but I felt a bit nervous in the senior races and stuffed up my starts," said the 16-year-old McGoldrick. "I need to enter senior races more often."
Kiff finished third overall in the junior 15-16 years' 125cc class on Saturday, with Smith winding up fourth but just four points behind. They both raced in the senior 125cc class the following day, with Kiff winning the class ahead of Smith.
"It was my first senior race on Sunday," said Smith. "It was much more intense than the junior racing and there were about five very fast guys at the front … and I was among them," he smiled.
© Words and photos by Andy McGechan, www.BikesportNZ.com