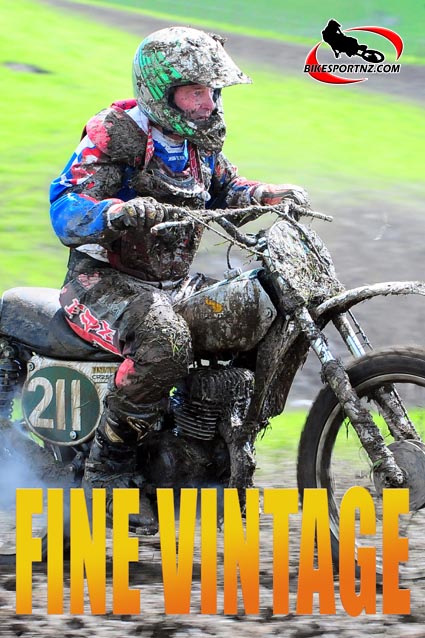 The mud was thick but the old bikes and mixed-age riders were up to the test.
It was slippery going at round one of series 9 of the Mr Vintage Motocross Championships series near Feilding on Sunday.
But it was the usual suspects who hit the front in each class, as well as a few first-time VMXers.
Top national cross-country riders Jason Moorfield and Luke Ramsey arrived with pristine old Kawasakis and they enjoyed a bit of time in the limelight, as did a few of the more familiar VMX faces such as Taranaki's Steve Gallichan, Palmerston North's Tom Vandenburg, Palmerston North's Stephen Shirriffs, Wanganui's Danny Willemsen, Katikati's John Bouzaid, Auckland's Mark Wooding, Kapiti brothers Ian and Stuart Pike and six-time former New Zealand motocross champion Murray Anderson, now of Otaki.
Riders are able to discard their three worst results from the series, meaning just 12 of the series' 15 races will count, ensuring tight racing to the conclusion, set for Wanganui on March 10.
The five-round Tricky Dicky Racing-sponsored series is not to be confused with veterans' motocross – this competition pits riders of all ages against one another, but on motocross machinery built before 1986.
With three championship points races at each round, it is imperative that both bikes and riders are made of stern stuff to survive until the final round in March.
VMX CALENDAR (2011-2012 season):
Round One: Feilding, Sunday, October 16.
Round Two: Whakatane, Saturday, November 12.
Round Three: Taupo, Sunday, December 4.
Round Four: Taranaki, Sunday, February 12.
Round Five: Wanganui, Saturday, March 10.
© Words and photos by Andy McGechan, www.BikesportNZ.com