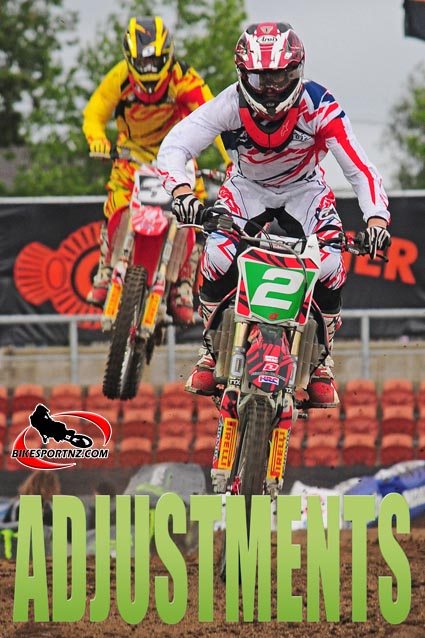 Today we have a look at a few of the silly season hook-ups ahead of the 2012 motocross season.
First of all we see that French brothers Sebastien and Christophe Pourcel have teamed up on CLS Kawasaki in Europe, while, in the MX2 segment of that team, Britain's Tommy Searle will now be joined by Belgian Joel Roelants.
Estonian Tanel Leok has joined Belgian Clement Desalle at the Rockstar Energy Suzuki team and Belgian Motocross of Nations rider Kevin Strijbos leave Suzuki to join the HM Plant Red Bull KTM UK team.
Closer to home, just across the Tasman in fact, Maxxis British Motocross Champion and Red Bull Pro Nationals Champion Brad Anderson has signed a deal to race in Australia in 2012, riding for the Carlton Dry Honda Thor racing team and sharing the pits with Kiwi hero Michael Phillips, of Rotorua.
"After a hard fought Australian campaign, that came off the back of a tough Kiwi campaign, I thought it was a good Idea to take a few weeks off the bike once the Australian motocross nationals had finished," said Phillips.
"At the time, two weeks was all I could afford as I thought having put my best foot forward in New Zealand and Australia, I would be picked to once again represent New Zealand at the Motocross of Nations in France. After a week of training for 30-minute motos, I heard the news (that I wouldn't be riding) and that was that. No comment
"In 2009, they brought the first Australian round of SuperX to Waikato stadium. At that time, they only brought out the Australian open riders and one lites rider. I was on the 250 at that time and battled with the lites rider, Danny Anderson. I came out on top to win the event.
"Before I left Australia in August I let my team, Carlton Dry Honda, know I was keen to ride the five-round 2011 SuperX series that starts in October. The series had come to New Zealand for two rounds last year, but, because of tough times, they were sticking to Australian venues only this year.
"So, after calling my team boss a number of times at ridiculous hours of the morning, I finally nailed down a bike and support for the series.
"Since then, the training and intensity has increased and due to the fine weather – and a bobcat that I now owe dad a lot of money for – I have been able to train on the supercross track located at the Rotorua motocross track.
"I have more riding and training in New Zealand before heading to Australia for two weeks of testing and getting my eye in on some bigger tracks."
Meanwhile, it came as no shock at all that former AMA supercross and motocross champion Ryan Dungey jumped ship from Suzuki to KTM in the United States, rekindling the great relationship he previously had enjoyed with "The Man", team manager Roger De Coster.
While this game of musical chairs took place, our own Ben Townley was easing his way towards a possible hook-up with the Monster Energy Kawasaki team in the USA.
He's certainly racing for them in the inaugural Monster Energy Cup in Las Vegas this weekend and, if that can lead to anything concrete, BikesportNZ.com would not be at all surprised to see the Taupo rider spending another season Stateside.
"I'm not sure where I will end up in 2012," Townley told BikesportNZ.com.
"I'm looking at all my options, including possibly racing in Australia or the United States, instead of returning to Europe.
"Whatever I do, I want to do it right, so the equipment has to be good and I need decent support. I have always had that and have had great people behind me, but my recent injuries have simply not allowed me to achieve what I wanted.
"I'm 100% again now and definitely ready to tackle the top level of competition."
© Words and photo by Andy McGechan, www.BikesportNZ.com