CELEBRITY ROAST FOR DINNER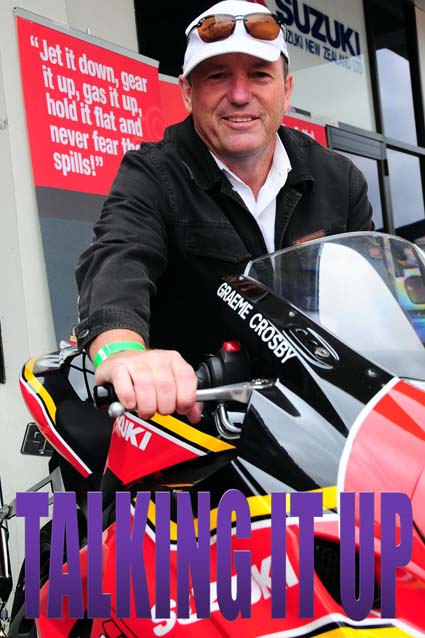 The person who coined the phrase "the bulldust stops when the gate drops" had probably never counted on Graeme Crosby.
The legendary racer can talk up a storm and racing is exactly what's on the programme for when he's finishing telling his tall stories.
The former champion roadracer travels down from his home near Auckland to lend his undoubted skills for telling tales to the Manawatu-Orion Motorcycle Club (MOMCC) as the club continues to celebrate its centennial year.
It is a year that kicked off in style in January with "the greatest show on turf" – the annual New Zealand Motocross Grand Prix at Woodville – followed by the hosting of the final round of the superbike nationals at Manfeild in April.
Although started in January, the celebrating has never really stopped for the MOMCC members as they have continued to party hard throughout the year with several high-profile events, not least of all hosting the New Zealand Veterans' and Women's Motocross Championships near Feilding just over a week ago, and the club will wind up the season with a centenary dinner on Friday, November 4, followed by a weekend of bike action.
A "Scramble Motocross" will be held near Feilding on Sunday, November 6, and a centennial moto-trial, including the BSA Shield inter-club challenge (MOMCC versus Ixion Club from Wellington), will be held at the Infracon Quarry, Linton, from 9.45am the same day.
Crosby will be one of the focal points for the Friday night dinner as a "celebrity roast" is held in his honour.
Sunday's motocross "scramble" in Sandon Road, Feilding, will be open to a vast array of bikes, including races for juniors, seniors, minis, vintage bikes and ATV (quad bikes)
The club reminds prospective guests that dinner tickets need to be purchased before Tuesday, November 1. The dinner is set for the Awapuni Function Centre and tickets cost $40 per person. Tickets are available at AFC Motorcycles or contact MOMCC secretary at akcvit@xtra.co.nz
© Words and photo by Andy McGechan, www.BikesportNZ.com