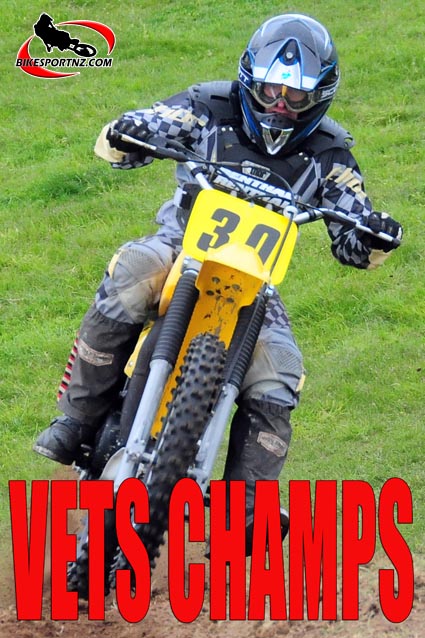 Champions of the past, present and future come out to play in the Manawatu this weekend.
The venue near Feilding will host the 2011 New Zealand Veterans' and Women's Motocross Championships this Saturday and Sunday with the entry list reading like a who's who and who-used-to-be-who of the sport.
Waikato's Darryll King and younger brother Damien King raced away with two titles apiece at the annual event last season, making them favourites to repeat the feat if they make the trip again this season.
Both the Kings have race world championship Grand Prix events and, despite their veteran status, are also still currently among the elite of the sport in New Zealand.
Also bagging titles in two separate categories at the veterans' nationals last season was Taranaki's Mitch Rowe.
Former national 500cc motocross champion Rowe won both the 45-49 years' under and over-300cc classes.
But, even if the King brothers and Rowe do show up ready to race, they will each have to be aware of hot performances coming from perennial frontrunners such as Danny Willemsen, of Wanganui, Tokoroa's Tony Livingstone, Auckland's Tony Cooksley and Whakatane's Darren Capill, to name a few.
Other title winners last season were Pukekohe's Craig Brown (35-39 years' under-300cc), Cambridge's Mike Cotter (35-39 years' over-300cc), Blenheim's Moston Wadsworth (over-50 years' all-in), Taranaki's Olivia Cottam (junior women 8-16 years' 85cc), Tauranga's Julie Managh (veteran women), Raetihi's Letitia Alabaster (over-15 years' women) and Rangiora's Kimberley Murphy (12-16 years' women 125/250cc).
Both Alabaster and Murphy have tasted success racing at the top level in Australia this season and, if they make the trip to Halcombe this weekend, they are sure to feature at the front.
Racing is set for Ewen Bird's property, Lees Road, Feilding.
© Words and photo by Andy McGechan, www.BikesportNZ.com