Same old bikes; same old dirt; same old fun.
That's the catch-cry for the new season's Mr Vintage Motocross Championship Series, set to kick off near Halcombe on Sunday, October 16.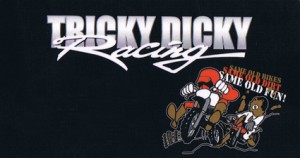 The five-round Tricky Dicky Racing-sponsored series is not to be confused with veterans' motocross – this competition pits riders of all ages against one another, but on motocross machinery built before 1986.
With three championship points races at each round, it is imperative that both bikes and riders are made of stern stuff to survive until the final round in March.
The fact that these motorcycles still withstand the abuse of off-road racing after all these years is testimony to the manufacturers and also to the bike owners who spend so many hours lovingly restoring and maintaining them.
There are separate classes for 125cc, 250cc and open class bikes, ranging in vintage from twin-shock spring suspension pre-1975 motorcycles through to the more modern water-cooled and linkage suspension bikes of 1986.
Top riders expected to enter include Taupo's Bill Doe, Wanganui's Mark Ellen, Taranaki's Steve Gallichan, Palmerston North's Tom Vandenburg, Wanganui's Danny Willemsen, Katikati's John Bouzaid, Auckland's Mark Wooding, Stratford's Stan Jones, New Plymouth's Niven Muir, Norsewood's Kevin Hermansen, Christchurch's Mark Meadows, Kapiti brothers Ian and Stuart Pike and Tauranga's national champion and former Woodville Motocross winner from the 1970s, Peter Ploen, to name just a few.
Riders are able to discard their three worst results from the series, meaning just 12 of the series' 15 races will count, ensuring tight racing to the conclusion, set for Wanganui on March 10.
VMX CALENDAR (2011-2012 season):
Round one: Halcombe, Sunday, October 16.
Round Two: Whakatane, Saturday, November 12.
Round Three: Taupo, Sunday, December 4.
Round Four: Taranaki, Sunday, February 12.
Round Five: Wanganui, Saturday, March 10.
© Words and photos by Andy McGechan, www.BikesportNZ.com