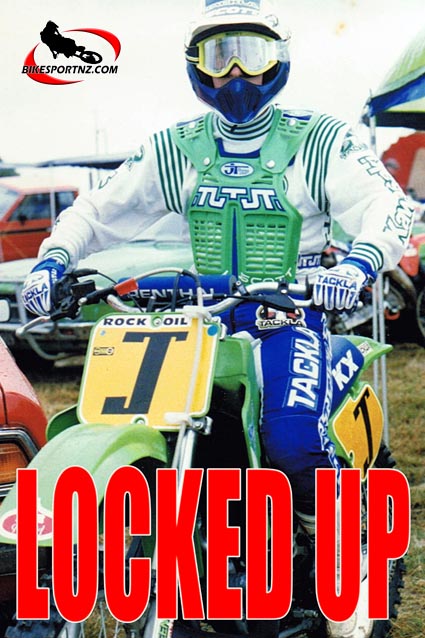 A London hotel tycoon told the police how he was swindled out of tens of thousands of pounds by a motorcycling champion-turned-conman who befriended him.
Richard Balfour-Lynn, chief executive of the investment company that owns the Malmaison hotel chain, spoke out after Julian Clark was jailed for three-and-a-half years for fraud.
The London-based millionaire was among 20 victims promised quick profits if they backed business ventures that included importing motorbikes.
Clark was one of the United Kingdom's leading motocross riders in the 1980s, at a time when he also toured New Zealand, racing for the Don Perry Motorcycles Kawasaki team in the 1987 New Zealand Motocross Championships.
He finished third in the 500cc class that season, behind fellow British rider and Kawasaki team-mate Greg Hanson and Stokes Valley's Murray Anderson (Yamaha). Just out of interest to our Kiwi viewers, the riders who finished just behind Clark that year were Paul McKendry, Wayne McKinley, Brent Emerson and Nigel McKinley.
The photos here (at right) show Clark in 1987 and today.
The now 45-year-old Clark, who ran the former Linda McCartney Pro Cycling Team, had lured investors with tales of big returns from his business buying and selling high-value vehicles. But Maidstone crown court was told that although the initial deal started as a genuine offer, it rapidly descended into fraud.
Between November 2006 and December 2009, Clark, of Horsmonden, Kent, obtained £737,000 from 20 victims – neighbours or friends or associates from the motocross world. He used money from one victim to reimburse another and his stalling tactics included bounced cheques and forged bank transfers.
He even sent a picture text message showing piles of cash to one investor, with the caption: "This is what I have been waiting for."
Mr Balfour-Lynn, 58, whose Edgware Road-based MWB Group Holdings Plc also owns the Hotel du Vin chain, said today that he met Clark on cycling routes in rural Kent. "He committed a crime and I suppose he will pay for it. I feel sorry for him. He asked me for some help and he was very convincing," he said.
The court had earlier been told that Mr Balfour-Lynn had given Clark £50,000 in April 2009 to buy 12 motocross bikes. He eventually took out a writ against Clark and £26,000 was returned.
The father of four said: "He was a local guy who wanted some help with a business deal. He needed some money short-term. I took him on trust but he didn't honour his word to me and lots of other people."
The tycoon did not go to police and had "put it down to experience" when he learned charges had been brought.
One victim was reimbursed £35,000 only after he pinned bounced cheques on a motocross club noticeboard, writing underneath: "Beware of Julian Clark. He bounces cheques."
Clark admitted 22 offences of fraud and two similar offences that he denied were left on file. In all he has repaid £420,000 and confiscation proceedings over the outstanding £317,000 go to court in January. He has a previous conviction for a similar £300,000 fraud.
© Photos by Andy McGechan, www.BikesportNZ.com