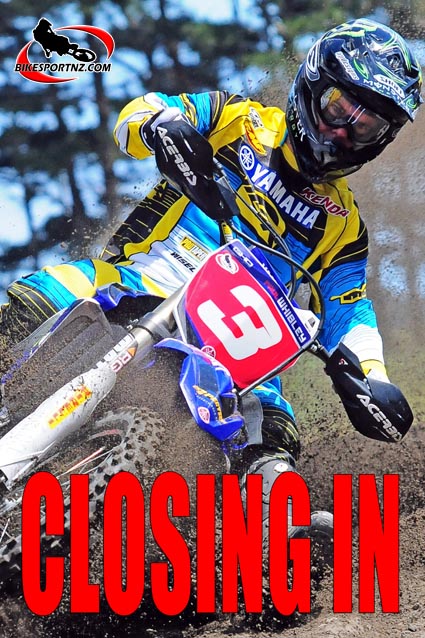 Pahiatua's Paul Whibley is fast making up ground in the United States.
The Yamaha ace finished a solid third overall at the latest round of the Grand National Cross-country  Championships (GNCC) in America – the eighth event of 13 on the schedule – while one of his main rivals struggled in the tough conditions and lost a lot of ground.
The defending champion from Australia, Josh Strang (Suzuki), could manage only 13th overall as he fought back following a crash on lap one, an incident that left his bike with a mangled sprocket.
That mishap also saw Strang lose his grip on the series lead, with the day's winner, American Charlie Mullins (KTM), now taking over the top spot, while Whibley has rocketed from 15 points behind Mullins to now be just 11 points behind new No.2 man Strang.
Another New Zealander, Yamaha's national enduro champion Rory Mead, from Taupo, finished eighth in the XC1 class at 11th overall at Unadilla.
For Mead this was one of just a handful of GNCC races he was set to compete in this season as he made it a late-season mission to hit America and "dip his feet in the water".
He may mount a more thorough assault on the GNCC series next season.
Despite the Unadilla event being only his fourth race of the championship, he is now 18th overall.
"The area had been hammered with rain all week, but the track conditions held up quite well," Mead explained.
"I struggled with the track today. The rocky bottom made it very slippery and I found it difficult to push hard. I felt I put in a solid day's racing.
"I'm just trying to find that little bit extra. I've switched to the smaller bike for the rest of the season, so I'm now racing a 280cc four-stroke.
"I think the lighter bike is an advantage, I just need a little more time on it.
"I fly out to California early this week for the next round of the AMA enduro cross series."
The next round of the GNCC series is set for Somerset, Pennsylvania, on September 25.
XC1 Results:
1. Charlie Mullins (KTM)
2. Kailub Russell (KTM)
3. Paul Whibley (Yam)
4. Nate Kanney (KTM)
5. Chris Bach (Beta)
6. Jimmy Jarrett (Hon)
7. Jedidiah Haines (Kaw)
8. Rory Mead (Hon)
9. Mike Lafferty (Hsb)
10. Kenny Gilbert (KTM)
XC1 Standings:
1. Charlie Mullins (190/3 wins)
2. Josh Strang (182/2 wins)
3. Paul Whibley (170/3 wins)
4. Kailub Russell (134)
5. Nate Kanney (129)
6. Cory Buttrick (110)
7. Chris Bach (96)
8. Mike Lafferty (76)
9. Jimmy Jarrett (75)
10. Kenny Gilbert (66)
© Words and photo by Andy McGechan, www.BikesportNZ.com