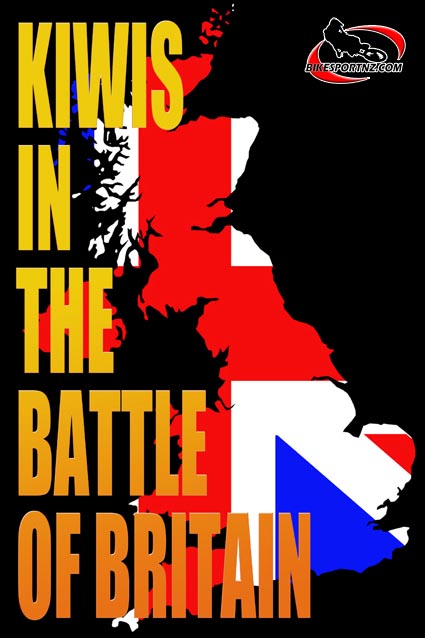 Dirt Bike Gym Team boss Rex Michau is very proud of his Kiwi contingent, the New Zealand core to his motocross team.
The riders – Rotorua's John Phillips, Masterton's Bjarne Fredericksen and Elsthorpe's Kieran Scheele – have each given it their best during a long and difficult season racing various high-profile motocross events in the United Kingdom.  
Michau, himself a Kiwi who grew up racing in the Hawke's Bay region, has watched on as the trio this year battled for points in the British Motocross Championships, the Red Bull Pro Nats and the British Motocross Masters series.
The team raced at the sixth round of seven in the Red Bull Pro Nationals at Desert Martin, in Ireland, at the weekend, joined there by fellow Kiwi racer Kayne Lamont, the young man from Mangakino racing for the Maxxis Apico Suzuki outfit.
The MX1 and MX2 bikes are raced together but scored separately in this series and Phillips was the best-performed New Zealand rider on the day, finishing 16th and 15th overall (good enough for 8th and 7th of the MX2 riders).
Lamont finished 27th and 29th overall (for a pair of 18th spots in the MX2 class), while Scheele managed 26th and 17th overall (for a pair of ninth placings in MX1).
"I must say John (Phillips) is going extremely well," said Michau. "He may appear a little disappointed because, like all young achievers, they want to be champions , 'like tomorrow!' We are all truly proud of what John, Bjarne and Kieran have achieved this year within the Dirt Bike Gym (DBG) Team.
"Those who know the Desert Martin track in Ireland, and the other championship tracks over here, will know that mastering them, let alone winning on them, takes and means experience and time.
"Kieran is back and ready after his huge Canada heights 'off' that demolished his shoulder. When he rides smooth, he is the quickest on the team in practise. He has proven it and can run top five in MX1 in the UK, so on the right day, he knows and we all know he can run with the best. His starts were good at Desert Martin, so the start practise is paying off.
"Buy the end of this season (end of September), the boys will have ridden the best practise tracks … some 75 times in just seven months, including Belgium and France where they have had to do 2 x 40 minute motos each of these days and then sections and starts, etc, and have had to travel on average three hours to each session.
"On top of this, they would have competed in some 20 major events all with world class riders on the start line. By the end of this month they are all running in the points in all three series. On top of this, the training is relentless.
"They arrived to a grass roots team and we all had to do some learning. They had to live rough in freezing rigs until they helped us build the rigs up and insulate them. They are all good van fitters now. Everyone has had to muck in to get us to the tracks.
"Jason Morris has proved an excellent mentor on and off the track and takes no prisoners. The boys are lucky to have him around. Our mechanics have been near perfect with the bikes only failing due to a part letting go twice in the session on race day. That is 10 bikes x 75 practice rides and 20 events. A lot of work for two mechanics but Nigel and Henry have grafted and done it to perfection. An extremely good record they continue to attain too.
"Now Kieran and John are in the Motocross of Nations 2011, representing their country (at the big annual race, this year in France on September 17 and 18).
"If they get good starts they can run with the best, we know that. Hence our focus these weeks in the lead up is starts, starts, starts and then motos for desert.
"I can only say I am very proud of their commitment to the job in hand. If this is the calibre of lads that New Zealand motocros can offer, then the future for New Zealand motocross overseas is very bright.  Next year will be better and greater because of these lads!
"I will soon be advertising for potential riders for next season.
"Some may come back, some may venture elsewhere and some may be new. No matter what, we will be ready and make further steps in creating more NZ-made world motocross champions. New Zealand is on the map with these young riders. We are gaining huge respect out here and are well known in the paddocks.
"The race results, you have seen, with mostly a top 20 position and often top 10 is a phenomenal achievement in their first season on the circuit over here.
"Emma Davis, our lady rider from Taupo, just won the BMXA British National Adult Ladies title in a spectacular display of riding, winning all 6 x 20 minute motos. A huge result.
"My only complaint is maybe they will stop blowing engines on practise days so there is a bike available that I can get a ride on during the last 20 minutes.
"Onwards and upwards! Like John says … thank you for supporting him, the team and what we strive to achieve."
Click HERE for the team's report from Desert Martin.